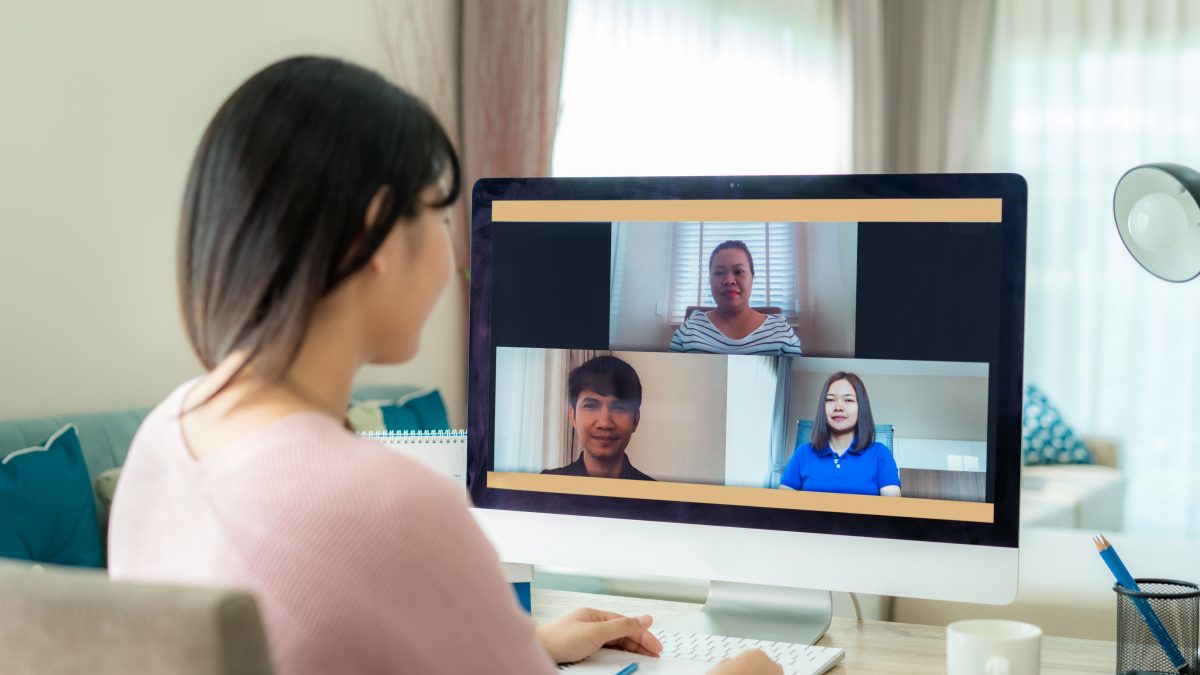 Are You Looking For The Best GoToMeeting Alternative? Here Are 10
Shalini Singh, 6 months ago
9 min

read
122
Video conferencing has come a long way in the past 10 years. In the beginning, it was just an idea introduced to cut down on travel expenses. Today, it is without a doubt one of the most popular virtual communication mediums among enterprises across all sectors. All thanks to the slew of conferencing tech and telecommuting apps available, including popular ones like GoToMeeting – as well as GoToMeeting Alternative.
From targeting new clients globally, to onboarding top talents from around the world to getting work done from home amid a pandemic– web conferencing apps like GoToMeeting have made it all possible.
Tons of people using GoToMeeting swear by how the tool has made scheduling and video conferencing easier for them. However, there are another bunch who no longer find GoToMeeting suitable, and seek out bigger, better alternatives. If you identify yourself among the latter group, this article is for you.
In this particular post, I am going to help you compare and evaluate some of the best GoToMeeting alternatives. Also, for those of you who just stumbled across this post, we'll go through GoToMeeting basics like 'What is it?', 'What is it best for?', 'What are its cons?', and 'How much does it cost?' – just to be sure you have all the information you need to make the right choice. Let's get started.
What is GoToMeeting?
GoToMeeting is a simple web and video conferencing software solution. The software enables its users to host, join, and manage audio/video meetings with 500, 1000 and even 3000 participants. Two of the most likeable features of this software are its user-friendly interface and compatibility with various devices. Plus, it offers powerful integrations (Slack, Podio, Zapier, Microsoft Office 365, etc.) that help start online meetings in a matter of minutes.
Why do you need a GoToMeeting alternative?
There are many noteworthy pros of GoToMeeting. It's powerful, robust, intuitive; but, it's not the ideal conferencing solution for all business types, sizes, and industries.
Here I list some common problems that GoToMeeting users face. They probably are some of the reasons users are looking for an alternative to a once popular web and video conferencing tool.
Steep Learning Curve: GoToMeeting is cumbersome for new users. If you aren't too tech-savvy, there's a good chance that it would take you a long time to understand how to use GoToMeeting, not just to its best possible capacity, but even as initially intended.
Connection Issues: To get the best out of GoToMeeting, you need a fast and error-free internet connection. If your meeting is interrupted due to poor connection, there's no way to recover. This becomes a major issue when you are hosting a video conference with 50+ participants.
Mobile Login Limitations: With GoToMeeting, creating or joining video conferences can be quite complicated, especially when you're on-the-go. Many users have agreed that it often gets tricky to use GoToMeeting on a mobile device.
Too Many Updates: Many users feel that the software is very aggressive with app updates. Sometimes, unsuspecting users have had to update the app right before starting a meeting much to their frustration. We get you. And, this happens more frequently than is reasonable.
No-So-Affordable Pricing: When it comes to pricing, people often ask: Is there a free version of GoToMeeting? The answer is yes. GoToMeeting offers a FREE plan, but there's a catch, it's only for teams with 3 members. At the end of the day, users have to pay big bucks to access premium conferencing features like dial-in conference, HD video conference, recording, sight board, keyboard/mouse sharing, 100+ participants and more.
What is similar to GoToMeeting?–or better?
Now, that we have recapped on GoToMeeting, here's a list of popular GoToMeeting alternatives and competitors –
Created by Telebu, TelebuJoin is a video conferencing app that lets you turn any space into a virtual conference room. It is by far the easiest way to have HD video meetings, webinars, and interactive events from anywhere. Along with ease-of-use, TelebuJoin offers advanced video conferencing features like real-time messaging, lock room, call recording, hand raise, screen sharing, and much more. We know you're Interested? Try now, it's FREE.
Is TelebuJoin better than GoToMeeting?
Yes, indeed. TelebuJoin is better, faster, and more affordable than GoToMeeting. You can start video meetings in 3 simple clicks:
Create your account
Share the link to invite
Start the meetings
No learning curve, no internet issues, no audio/video problems, no hardware limitations – only seamless conferencing. And that what makes it the #1 GoToMeeting alternative.
Skype for Business is a hybrid solution. This solution allows users to easily interact via text, audio, and video communication. Skype for Business is available as both a cloud-based and an on-premise solution. It is tightly integrated with Microsoft Office applications, enabling users to share files and make presentations on the call.
Is Skype better than GoToMeeting?
Skype has a free plan for 300 users and supports unlimited users in its highest plan. The only plus point GoToMeeting has over Skype is that it doesn't require an annual commitment to plans.
Also read: Business Communication: Looking Beyond Skype
The next best GoToMeeting alternative is Zoom. Hosting webinars, teaching online courses, conducting online training, providing video demonstrations, hosting virtual meetings and video conferences – Zoom lets you do all of that. It's a web conferencing software designed to offer quality video, audio, and screen-sharing capabilities and experiences. The software caters to the needs of every SMB, enterprises, educational institutions, and healthcare organizations.
Is Zoom better than GoToMeeting?
The definitive answer is yes – Zoom is better than GoToMeeting. It has more advanced options for screen sharing and video settings. It also offers robust drawing capabilities and a unique whiteboarding option. GoToMeeting also offers the same capabilities, but they're significantly limited compared to Zoom.
Google Hangouts is now Google Meet. This upgraded version of Hangouts is designed to help businesses host webinars and video conferencing. With Google Meet, you can host video calls with up to 100 people. The service also includes valuable conferencing features like screen sharing, recording options, dial-in conference, and more.
Is Google Meet better than GoToMeeting?
Google Meet is much simpler and more affordable compared to GoToMeeting. Its free version supports video conferences with a greater number of participants and it seamlessly integrates with the rest of G-Suite.
WebEx is a flexible video conferencing solution that lets you instantly schedule, start and conduct meetings online–data, voice, as well as video. With WebEx, you can have interactive online sessions with a capacity of up to 3,000 participants and access advanced capabilities like screen sharing, Q&A, polling, and real-time chat.
Is Webex better than GoToMeeting?
Webex is better than GoToMeeting. Unlike GoToMeeting where you get a free pan for teams with 3 members only, Webex has a free plan for up to 50 participants per meeting. Also, Webex lets you access more premium features with the Plus plan.
Also read: WebEx Alternatives: Here Are The Best Ones For Online Collaboration
Join.me is the kind of conferencing solution businesses use to hold online meetings and access collaborator's computers remotely–without signing up or downloading any software. Join me online conference works in 3 simple steps: visit the site, send code to participants, and ask participants to type the code on the web page to access the virtual meeting. So easy, right
Is Join.me better than GoToMeeting?
Join.me and GoToMeeting have almost the same features. GoToMeeting has a little edge in terms of user limits but Join.me is more affordable. Join.me even gives a personalized URL and backdrop for meetings to users.
Adobe Connect is a more sophisticated choice for making videoconferences. The solution is considered best in the market for high-quality video calls and video conferencing. If GoToMeeting isn't working for your demanding business standards, I recommend that you acquire Adobe Connect and apply it in your work.
Is Adobe Connect better than GoToMeeting?
GoToMeeting might be a bit cheaper, but in terms of functionality and usefulness, Adobe Connect is better than GoToMeeting any day. Adobe Connect offers timely webinars for training and Q&A. It also has a "backstage mode" that users can use to collaborate behind-the-scenes during a live session–something that's clearly not there in GoToMeeting.
For those who want to host easy and reliable video meetings, Whereby is another great choice. It's a collaboration tool that allows meetings to be conducted from a browser – no downloads. no login for guests. Professionals can use Whereby to effortlessly connect to their teammates, partners, and clients using a platform they can trust.
Is Whereby better than GoToMeeting?
Whereby is better at video conferencing. It's easier to set up, has more advanced screen sharing capabilities and provides better support. However, when it comes to scheduling and audio call functionalities, GoToMeeting wins the race.
Zoho Meeting is a conferencing solution designed for helping individual users as well as organizations to host secure online meetings and video webinars. With Zoho Meeting, you keep your meetings handy using simple desktop plugins. It's a browser-based solution–so, as a participant, you don't really need to download or install any application to attend a meeting/webinar. It also supports features like polls, Q&A, allow to talk, recording, in-depth analytics, and more that make online meetings and webinars more engaging.
Is Zoho Meeting better than GoToMeeting?
Zoho Meeting offers more powerful calendar integration and even allows global audio dial-in, unlike GoToMeeting. The quality and timeliness of support are also a major parameter while comparing the two solutions as Zoho Meeting provides better support via email, live support, tickets, and training.
The last GoToMeeting alternative in the list is BlueJeans. BlueJeans, a full-featured web conferencing software with a more simple and modern approach. The software uses a system of meetings, rooms, and events to enable video conferencing. With BlueJeans, you also have the ability to launch meetings from a browser. It also integrates with most of your collaboration tools.
Is BlueJeans better than GoToMeeting?
The last GoToMeeting alternative in the list is BlueJeans. BlueJeans is better than GoToMeeting in numerous ways. As compared to GoToMeeeitng, BlueJeans offers you more advanced conferencing features like:
Live meeting monitoring and control
Unlimited cloud recording
Custom interface branding
Also, it enables easy viewing of all video conference activities in your organization in one central place.
What do you think?
There you go. These were the top web conferencing software solutions that can replace GoToMeeting.
Now, the important question is: Which GoToMeeting alternative would you go for?
Remember, every GoToMeeting alternative available today has its own advantages and limitations. In the end, it all comes down to which software is best for your specific needs.
Shalini Singh
Shalini Singh is a creative content writer at Telebu Communications. She loves to speak her mind with clarity and logic. She mainly writes on topics that are at the intersection of modern business culture and collaboration. And when she is not doing that, she is somewhere exploring a new place or just sitting on the couch scrolling through random posts on Instagram.
Related posts
Subscribe to get the latest news & updates.