What Is A Dial Out Conference Call (No Pin Conferencing)?
Shalini Singh, 8 months ago
6 min

read
153
Dial-in conference call or dial-out conference call? It's a conundrum for some of us. Won't it be more convenient if someone called us and put us on a call? Some others think it is more convenient to be able to dial-in when we have the time, especially when it's going to be a never-ending conference call. It could be the end of the financial year which means review time. Or, it could be planning for the year ahead. Whatever the agenda, one thing is for sure- you cannot skip these! And with our busy schedules, it is sometimes easier for us to be called and connected to a conference call instead of the other way round. 
What is a dial in conference call?—and how it usually work?
In the early days, there would be specific equipment brought in to make conference calls possible. These would then help create a number that would have to be dialed by the participants in order to enter the conference call. For the purpose of security, there would also be a PIN that they would have to enter. This is what is dial-in conferencing. It gets its name because one has to dial in from their phones to a number (often provided by the host) to connect to a conference call.
The whole procedure was painfully slow and tedious. From finding a quiet place, to dialing-in and ensuring that the PIN entered is correct- while it seems simple, you can see that there are too many steps to follow. While this may seem alright for a one-time meeting, if there are regular conference calls, this is too inconvenient.
Then, with time, mobile phones were introduced and started to take over. Mobile phone service providers began to offer a conference calling facility but with a limited number of participants. This still didn't serve the purpose of business conference calling which may have as many as 20-30 participants at one time.
The next step in the conference calling scene was the entry of mobile phone applications that enabled more flexibility and mobility. People didn't have to stay rooted in one place instead they could take or make conference calls from anywhere they liked.
How does modern-day dial-in conferencing work?
Instead of there being a number to dial-into, participants now have a meeting ID that they need to dial-in. Most modern-day conferencing is a mobile application based. So, it is essential that the participants have a mobile application installed on their phones. In the case of a meeting that is scheduled, they will receive an invite on their phones, mostly as an SMS. This SMS will have the meeting ID and a link to install the application if they haven't already done so.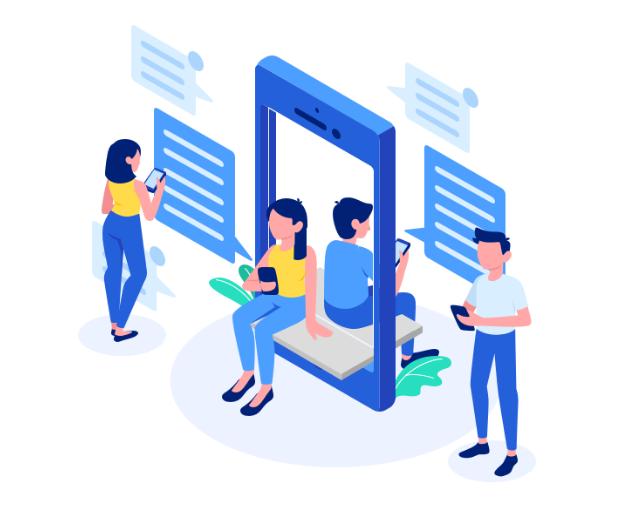 While the background has changed from expensive conferencing equipment to free conference calling mobile applications, the problems remain the same. Dialing-in is inconvenient. Imagine this. You're the host and you're waiting for the other participants to dial-in. They, on the other hand, are struggling with the meeting ID or are unable to connect because they're in a spotty wifi zone. The result is going to be an ineffective meeting and lots of precious time wasted.
What is dial-out conferencing?—and why it is better?
Now, imagine this. You're the host. You have scheduled a call for 11 am and at exactly 11 am, you receive a call. You answer the call and are informed that this is your conference call. Now, you fire up the app and notice that the other participants are also joining in. They too received calls which they answered and voila, they were connected! No PINs, no waiting, no meeting IDs. You already had shared the agenda with the participants so you get on with your meeting and everybody is happy. This is grptalk's dial-out conferencing. Hassle-free, simple and effective.
If you use dial-out conferencing, you don't have to take on the additional stress of dialing-in and waiting. You also don't have to worry about informing others about the meeting ID. Plus, the biggest advantage of grptalk is that it uses PSTN based conference calling so the other participants don't even have to have an application installed on their phones. They can conference with you even if they're in a spotty wifi zone. Business can be done with no trouble! 
If you still want dial-in conference calling, grptalk has a feature that eliminates dial-out conference call altogether. If you'd like to have both the options, you have that flexibility too. Good business, at the end of the day, isn't just about making profits. It's about finding a smart, sustainable solution to a problem. It is about scalability and optimizing revenues. When your business runs smoothly is when you can help others achieve their business objectives and goals. We are all a part of a large system of co-dependent enterprises. With effective solutions like these, rest assured that businesses can go places!
How to dial-out from a conference call using web conferencing?
Using web conferencing, one can do a dial-out conferencing call without any hassles. You don't need any bridge or PIN numbers. And, dial-out web conferencing, you can connect with more people. We know that usually, more here means a maximum of 100 people on a single call. But, with grptalk, an audio conferencing app by Telebu, you can connect more than 10,000+ people. The process is not tedious at all. It can be done in simple steps.
Here's how you can do a dial-out web conference from grptalk:
First, scan the QR code and login.
Once, you reach the dashboard, you can click on the call button, and connects everyone to the call.
And, if you want to add more people to call, you can do that manually by entering the phone numbers or you can fill in the details in an excel sheet and upload it.
For a private conversation with a specific participant, click on the private room.
If you do not want to conduct the call, you have an option of a call manager to do it for you from the web interface.
And, create sub-accounts for your teams to make communication easy for them.
How do you dial an access code on a conference call?
An access code is given to participants to dial-in to the conference call. Usually, the participants just have to enter the access code to be a part of the conference. But, sometimes, it does happen that the participants dial into a busy signal or a "try again later" message. And, also if the participants lose the access code, they will not be able to join the call causing inconvenience to everyone. So, to avoid all these problems, the best way to conduct a conference call is to opt for a dial-out audio conference. And, grptalk is a one-stop platform for a hassle-free dial-out conferencing.
Is it free or do you get charged for conference calls?
With grptalk, dial-out conferencing, one can connect up to 10,000+ on a single call. And, the participants don't get charged for the call. We offer two plans depending on customer requirements.
You will be charged per minute, per participant. For example, if you talk to 10 people for 10 minutes, you'll be charged for 100 minutes.
You will be charged per participant per month on a subscription basis. For example, if you talk to 5 people every month, you need to pay per participant and the plan is valid for a month.
So, What are you going to do now?
Shalini Singh
Shalini Singh is a creative content writer at Telebu Communications. She loves to speak her mind with clarity and logic. She mainly writes on topics that are at the intersection of modern business culture and collaboration. And when she is not doing that, she is somewhere exploring a new place or just sitting on the couch scrolling through random posts on Instagram.
Related posts
Subscribe to get the latest news & updates.