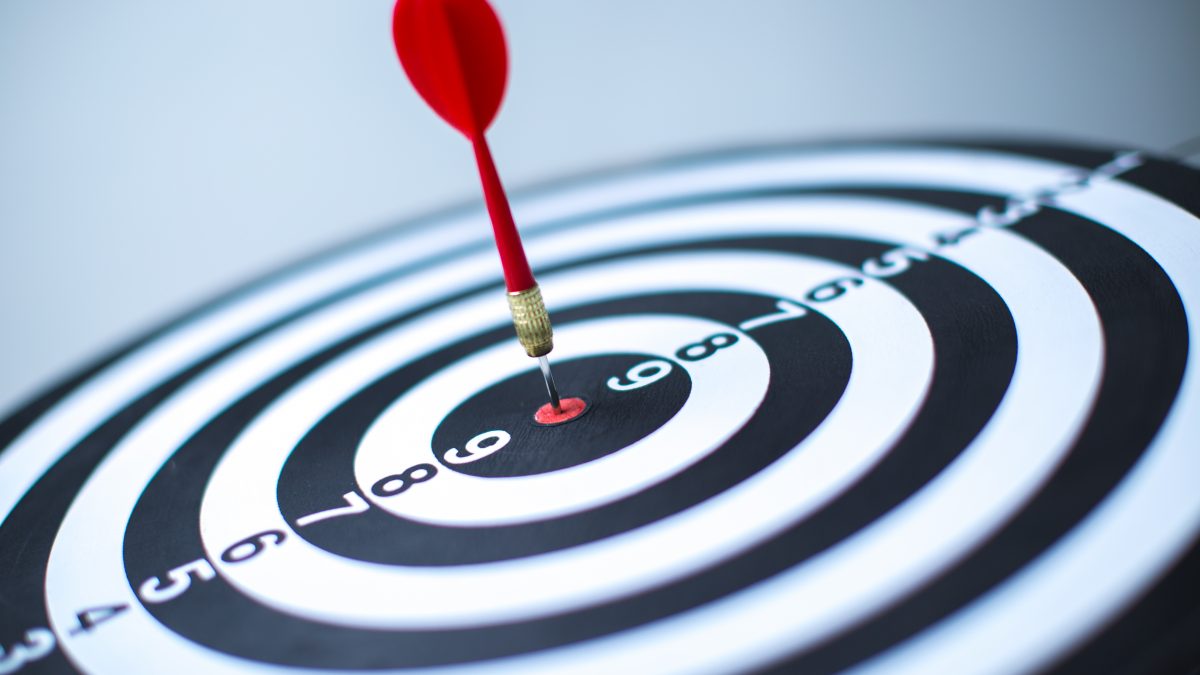 Business Meetings – This Is How Steve Jobs, Jeff Bezos & Others Do It
Sharath Chandra, 11 months ago
10 min

read
156
Unpopular opinions about business meetings stem from the practice of hosting futile and long-running gatherings. Usually, half of the attendees are invited because they're 'important', and not because they contribute. And, when this happens, it isn't just the room that gets claustrophobic, but the attendees' interest and attention suffer as well. When meetings become a source of pandering to executive importance or ego, they lose their essence.
Business Meetings, crucial for effective business operations & strategy, are only as successful as the participants and their follow-up actions. Here, we look at how some legendary CEOs, Founders, and top executives conducted successful meetings.
Steve Jobs – Apple Founder & CEO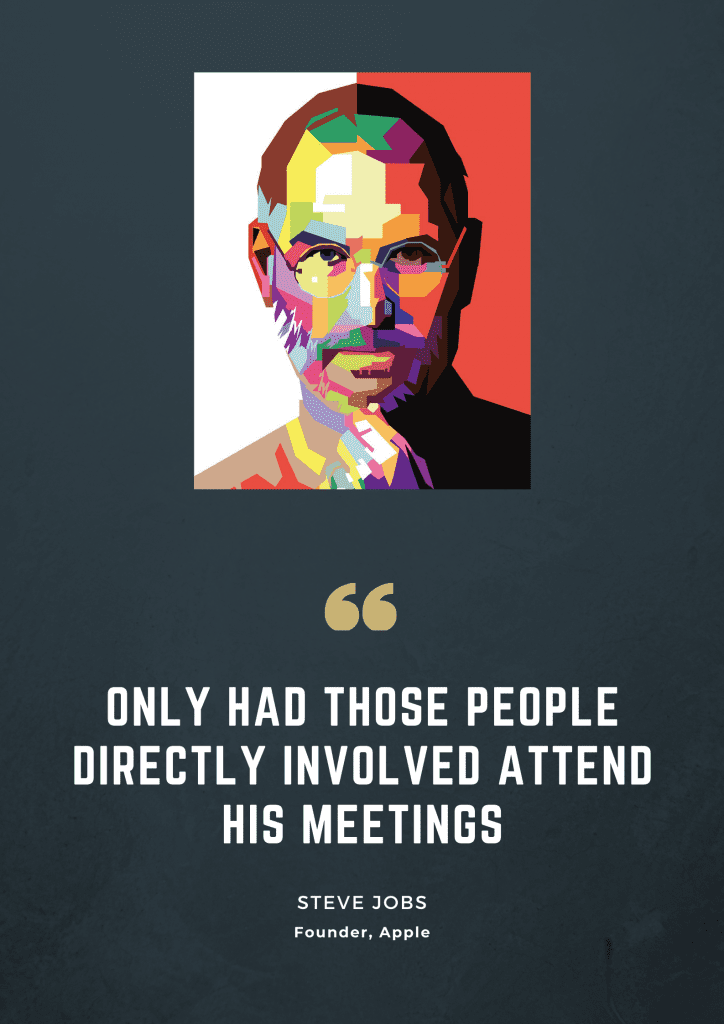 Pain point: Crowded meeting rooms
One of Steve Jobs' associates described an interesting event. Steve was in a business meeting room once when he noticed a woman standing coyly. He asked her why she was in the meeting room. When she replied that she was taking notes for a similar project that she's working on, Jobs asked her to leave. He nonchalantly said, 'I don't think we need you here.'
In case it is necessary to share the happenings of a business meeting, businesses can use solutions like grptalk and TelebuJoin. Using these revolutionary business communication solutions, teams can share recordings of the meetings on need to know basis.
grptalk is an audio conferencing app that eliminates the need for internet and hardware to conduct large-scale audio conferences. With grptalk, you can connect with up to 10,000 participants on a single call.
TelebuJoin is a video conferencing solution using which you can set up a virtual meeting in just three steps. With features like screen-sharing and group chat, collaboration is as easy as blinking.
This decisiveness highlights one of Jobs' and Apple's core principles– simplicity. He hated crowded meeting rooms. Steve only had one rule about meetings – only people directly involved in the project needed to be there. He never entertained spectators.
Did you know that Steve Jobs once turned down an invitation to a meeting of technology experts, hosted by the then US President Barack Obama? He said he didn't attend the meeting because the meeting already had 'more people than necessary'.
Jobs also introduced a practice, internally known as the DRI i.e. Directly Responsible Individual. Every meeting at Apple must have an action list and a DRI was assigned to every list. The practice ensured that nothing discussed during the meeting is overlooked.
'Who's the DRI for that?' is a very common Apple phrase.
Alfred Sloan – Legendary GM CEO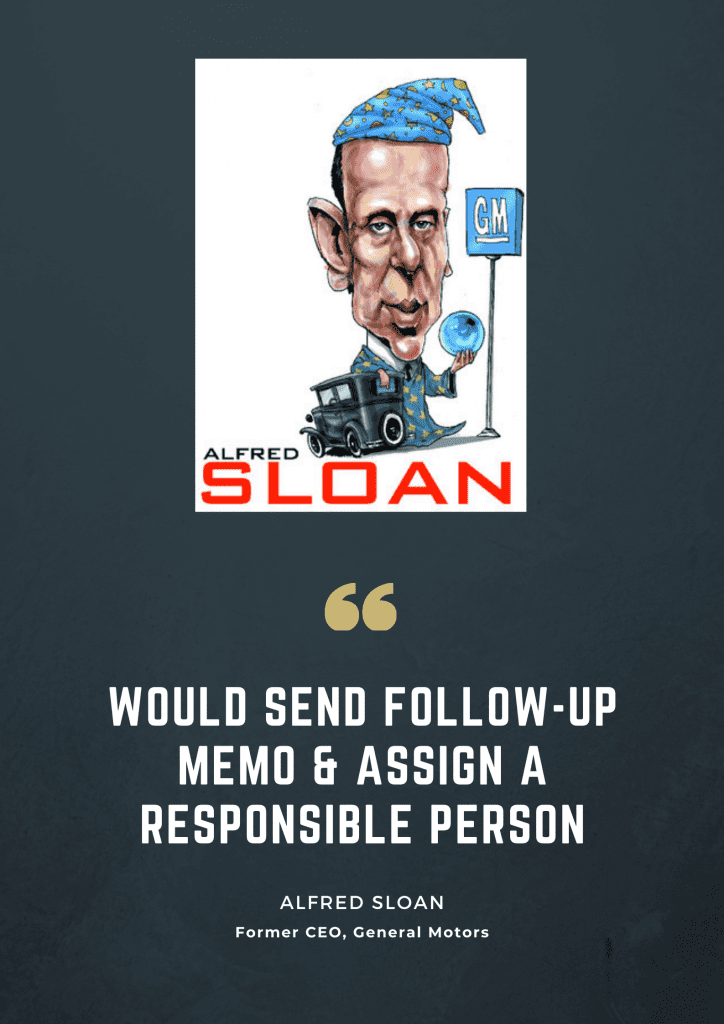 Pain point: No follow up actions
Alfred Sloan is credited with building an objective organization structure focusing on policies and processes. In fact, top executives across industries swear by Sloan's follow-up memos as a definitive go-to meeting strategy.
Sloan's typical meeting would start with a call for a formal discussion announcing a purpose. Once everyone had assembled, he would listen to what each person had to say. Sloan himself talked very little. After everyone had finished speaking, he would leave the room. He would next write a follow-up memo and address it to one of the attendees. The memo would usually contain a summary of the discussion and its conclusion. One highlight of his approach was to assign a task, borne out of the discussion, to one of the attendees and a deadline to conclude the task. The assigned person was responsible for the task including gathering a team, generating reports, etc.
A copy of the memo would be sent to everyone present at the business meeting.
There is one incident from one of the committee meetings of the former GM CEO in the 1920s, which has been famously shared among the executives. At the end of the meeting when everyone agreed to a proposal, Sloan announced, 'Then I propose we postpone further discussion of this matter until our next meeting, to give ourselves time to develop disagreement and perhaps gain some understanding of what the decision is all about.'
It was a wise measure to eliminate all doubts regarding the project.
Larry Page – Google Founder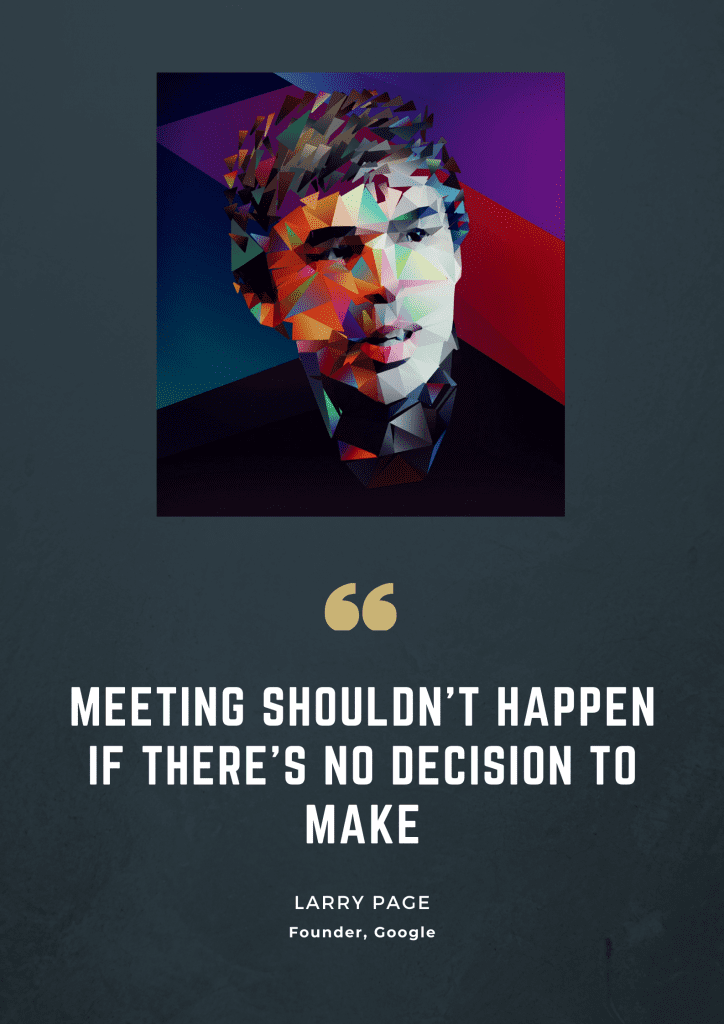 Pain point: Futile meetings
Larry Page was known for his revolutionary management decisions and diktats. After he was reappointed as the Google CEO in 2011, a decade after stepping down from the role, Page sent out a long email to all its employees. The subject of the email was 'How to run meetings effectively'.
In his mail he proposed:
Decision-maker: Every business meeting should be assigned a person empowered to make a decision about the task at hand. If the participant or the person hosting the meeting felt that there's no need for a decision-maker, then the meeting shouldn't happen.
Attendants: Any meeting room couldn't have more than 10 attendees. Page was particular about his managers picking only those who had appropriate skills to help with the meeting's objectives.
No Spectators: Meetings eat away a good chunk of working hours for every participant. So, it was compulsory for every attendant to contribute to the meeting, otherwise they weren't supposed to be there in the room.
Elon Musk – Tesla CEO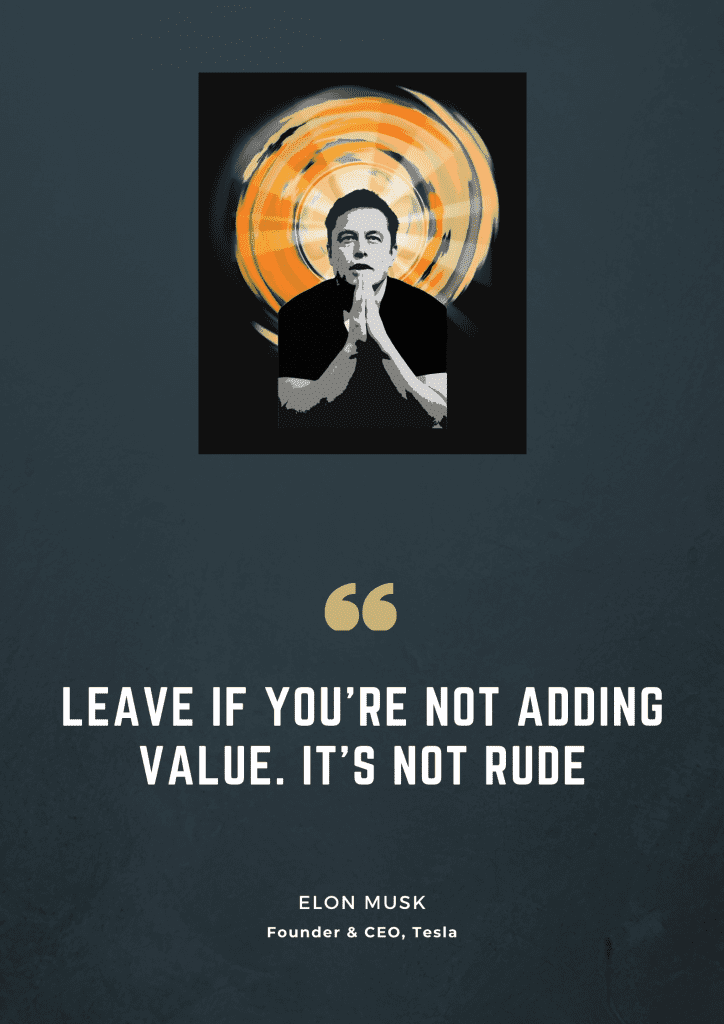 Pain point: Frequency of meetings
Elon Musk is known as the perfectionist who made Tesla one of the most valuable automakers in the world in under a span of 10 years. He could achieve that through sheer discipline and holding his employees to extremely high standards. Musk sends out a clear message to his employees that if the company wants to compete with and beat fellow business mammoths, they need to think and work differently. He has since reformed several business processes including how business meetings are conducted.
Here are his three golden rules:
Get rid of large meetings: Musk asked his employees to do away with large meetings 'unless you're certain they are providing value to the whole audience, in which case keep them very short.' In an interview Elon Musk mentioned that his ideal meeting would include no more than 4 – 6 people.
Leave if you're not adding value: Tesla employees are mandated to leave a business meeting room or drop off a call if they feel that they're not adding value. Musk stresses that walking out of a meeting room will not be considered rude. 'It is not rude to leave. It is rude to make someone stay and waste their time,' Musk states.
Reduce frequency of meetings: Musk asked his employees to cut down the frequency of meetings. The primary criteria to call for a meeting should be the urgency of the task. He further said that the number of meetings should reduce drastically once the urgent matter is resolved.
Ben Horowtiz – Former Opsware CEO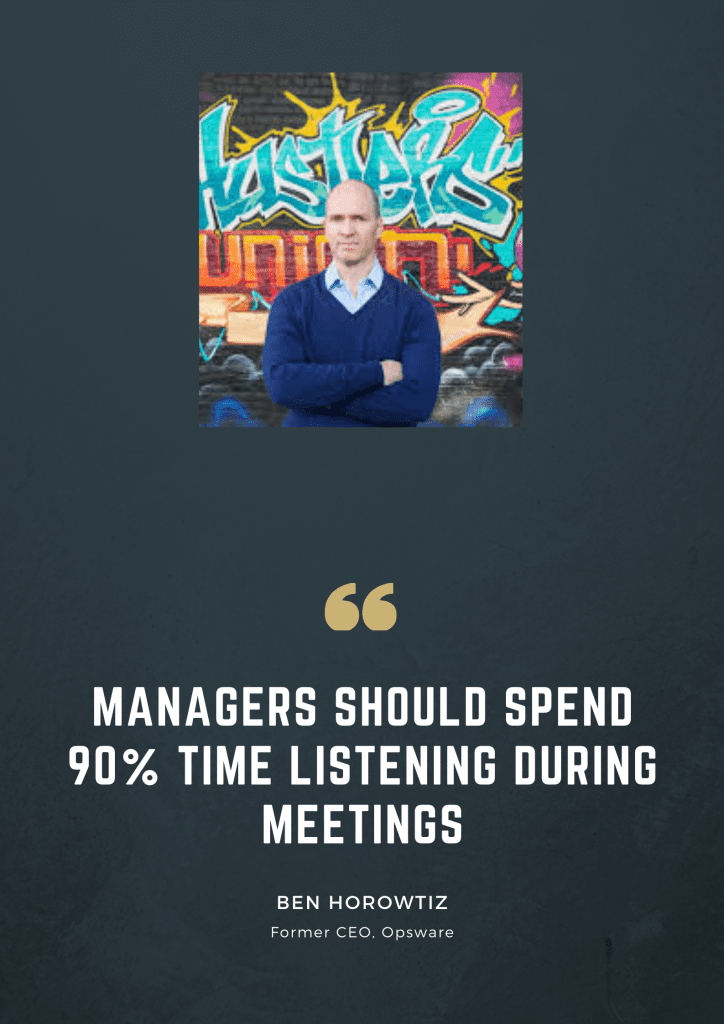 Pain point: Unclear agenda
Ben Horowtiz, former Opsware CEO and Andreesen Horowitz co-founder, has been a vocal advocate of change in corporate culture. He recently released a book 'What You Do Is Who You Are' on creating business cultures.
Horowitz introduced a set of innovative rules for business meetings with an objective to groom young leaders. He made it a rule that employees, not managers or team leads, should set an agenda for a meeting. This was to ensure that the person who called for the meeting has complete control over proceedings. During the meeting, managers are obligated to spend 90% of the time listening to the discussions.
At Andreesen Horowitz, Ben set a rule that whoever arrives for a meeting late will have to pay a fine of $10 without any exceptions.
Ben strongly advocates for one-on-one meetings, which he says are 'the best place for ideas and critiques to flow up from employees to management'.
Jeff Bezos – Amazon Founder & CEO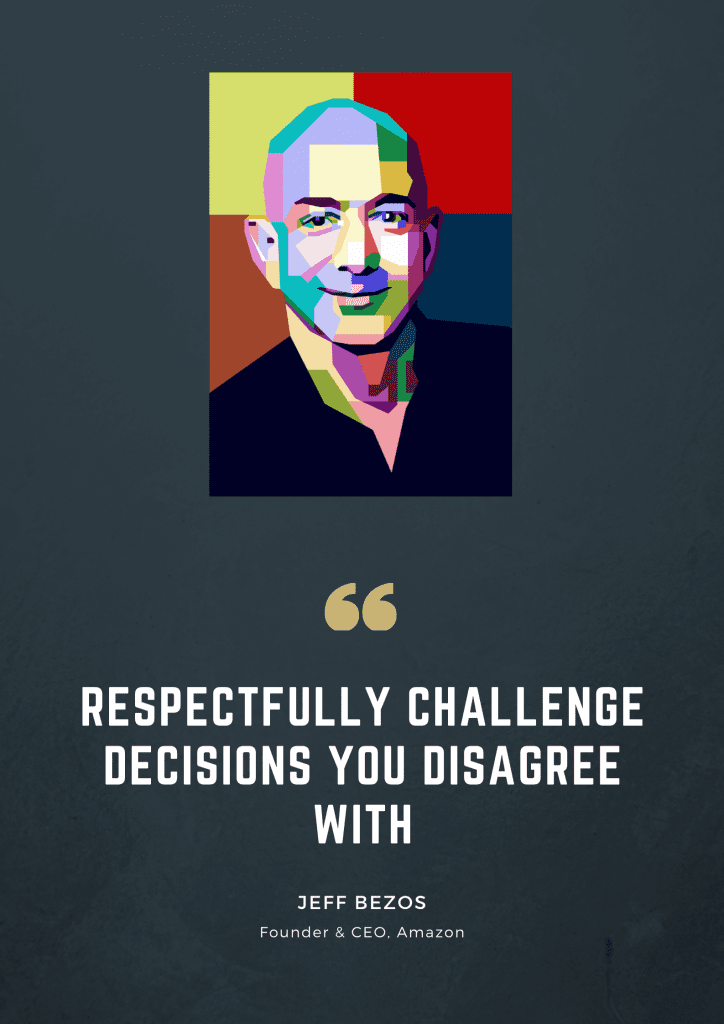 Pain point: Tedious presentations
Jeff Bezos is vocal about the three rules that his company follows to ensure effective business meetings. He highlighted his code for making meetings productive in his annual letter to shareholders and media interviews
'Two Pizza' Teams: Aimed at solving the overcrowded meeting rooms, this rule makes the process as simple as it sounds. 'We try to create teams that are no larger than can be fed by two pizzas,' he said explaining the rule.
No PowerPoint: Bezos has been averse to the idea of large presentations during meetings. He claims that writing memos instead will help authors give a better chance of explaining their proposals. He says, 'The great memos are written and rewritten, shared with colleagues who are asked to improve the work, set aside for a couple of days, and then edited again with a fresh mind. They simply can't be done in a day or two.'
Start with Silence: A meeting at Amazon starts with a few silent minutes, during which the participants go through the memo. This way everyone is better prepared to discuss the objectives. 'There is no way to write a six-page, narratively structured memo and not have clear thinking,' Bezos says.
Indra Nooyi – Former PepsiCo CEO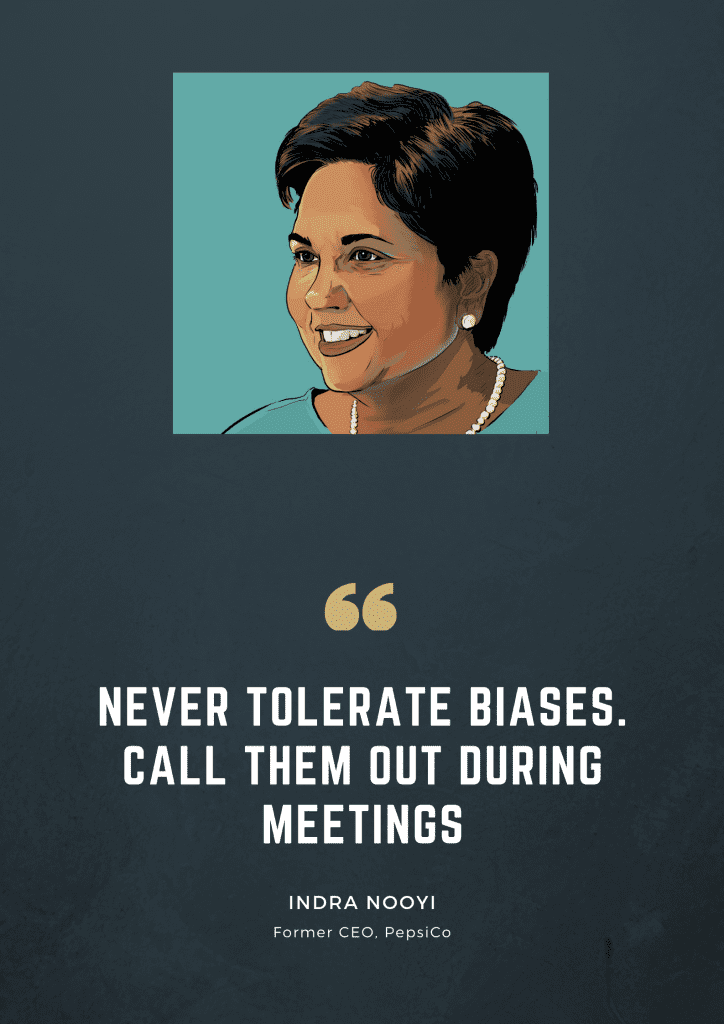 Pain point: Conducting oneself
Indra Nooyi, who became the first female CEO of PepsiCo, poured her heart out and explained how she had to work harder to make a mark in male-dominated environment. She didn't just make a mark, but also broke all the rules to transform PepsiCo's positioning. From shifting the brand's focus, and launching a health-oriented product line to hiring the company's first-ever Chief Design Officer.
Nooyi believed in preparing diligently for every business meeting, big or small. She spent hours poring through every note and material sent to her to ask great questions of the issues involved despite her challenging schedule. She wanted to know all the facts.
In her farewell note, she particularly stressed that hurtful behaviour shouldn't be tolerated during business meetings. She said that biases or bullish behaviour should be nipped in the bud. Nooyi explained how she called out a male colleague for dismissing his female counterpart's comments.
"Don't say I'll talk to him outside the meeting. Right there, stop the meeting and say 'why are you rolling your eyes, is there a problem?'" she said. Nooyi advises that if managers tolerate such behaviour in the meeting rooms, it sets a bad example.
Sundar Pichai – Google CEO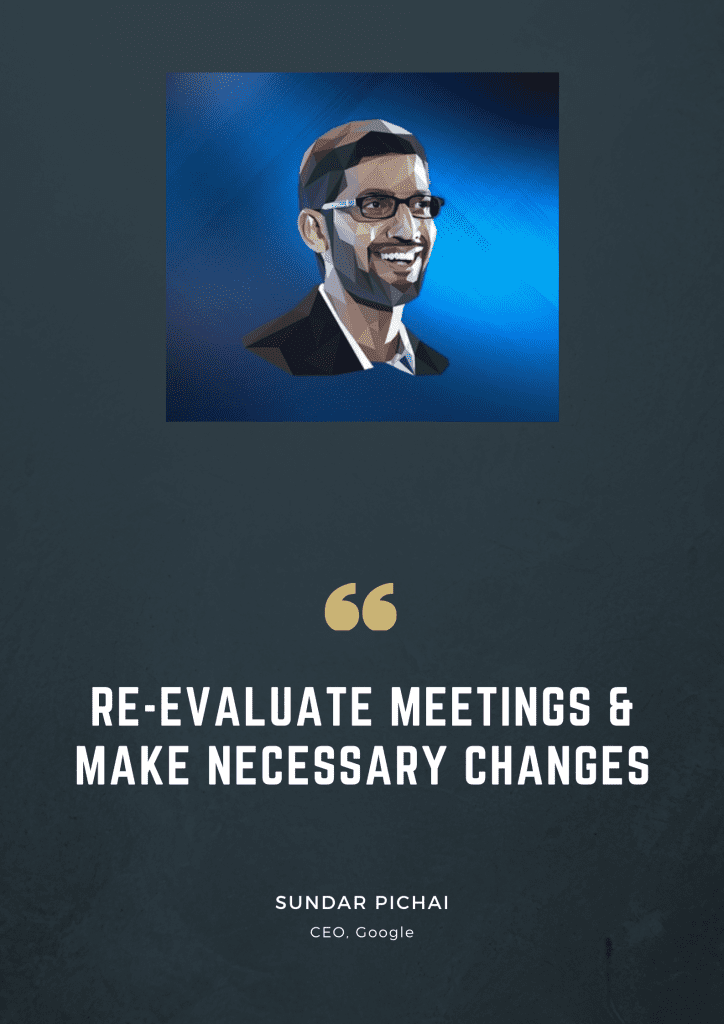 Pain point: Getting in a rut
It took a leak for Google CEO Sundar Pichai to relook at the meeting culture of the Silicon Valley giant. He was quick to make necessary amendments to retain the importance of business meetings including the decades old weekly 'TGIF' town hall meetings. These meetings were aimed at discussing business strategy, product launches and progress, and employee concerns. After some disgruntled employees leaked the meeting details, Pichai announced some changes to TGIF meetings.
Frequency: Pichai reduced the frequency of these weekly meetings to monthly. The decision was taken in the wake of drop in attendance. I fell from 80% a decade ago to 25%.
Smaller meetings: Having reduced the company-wide townhalls to once-a-month to discuss business strategy, Pichai announced that smaller versions of these forum meetings will solely discuss employee issues.
In conclusion… While some of these practices contradict each other, what is clear is that not every meeting has a fixed set of rules. Just like organizational hierarchies and business objectives, rules, and standards are different for every business meeting and every company. The best thing to do is discuss and agree on a process that best suits your team and company. This way, processes can further evolve as your teams and company objectives evolve.
Sharath Chandra
Sharath is a content marketer who believes that storytelling is the best way to build a brand. He is driven by a desire to write copies, which will be used as an example on how best to write engaging content ('Some day,' he sighs). Also, he is a closeted poet.
Related posts
Subscribe to get the latest news & updates.