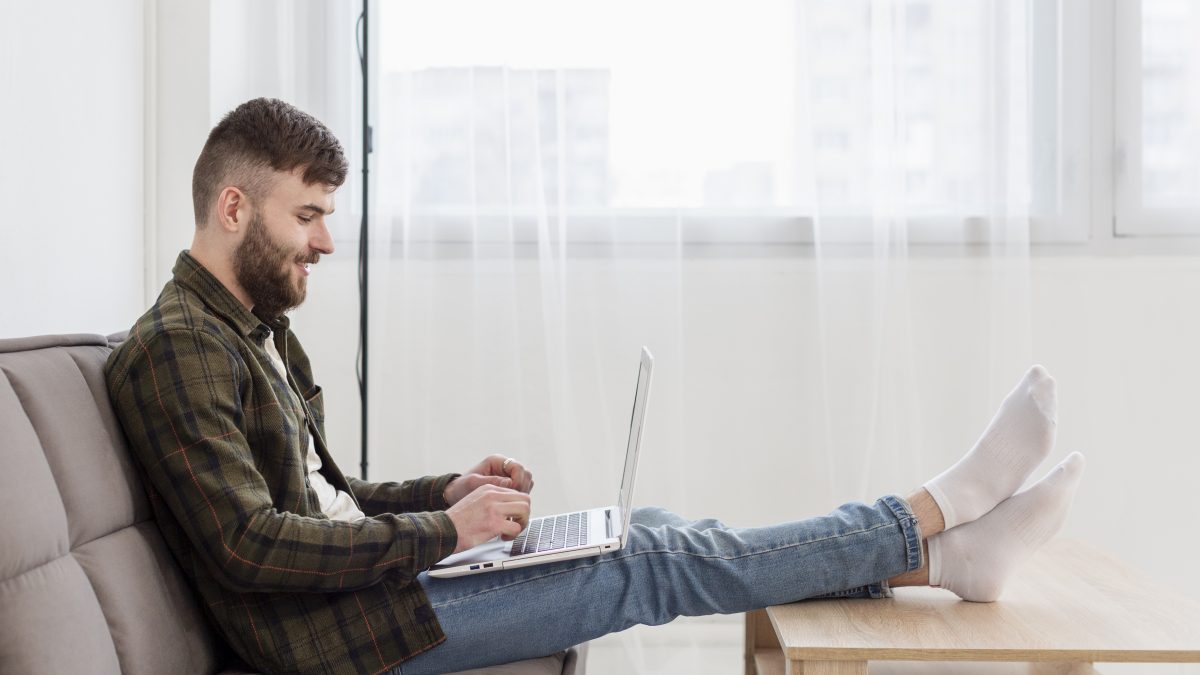 Telecommuting Jobs You Should Apply For Right Now
Shalini Singh, 1 year ago
7 min

read
131
It's a usual Monday morning. But instead of rushing to the office, you are sitting on your dining table, having breakfast, and setting up your tasks for the day. Welcome to the world of telecommuting jobs.
This is a world where people prefer to work from home or any place that makes them feel comfortable. Today, one in every two employees prefers to work remotely so that they can maintain social distancing while keeping their work-life as usual.
Now, this new remote working culture is not only changing the way our offices run but also the way we find jobs.
Those who are working remotely are on a continuous hunt for the highest-paying telecommute jobs. Therefore, companies can't be left too far behind. Most organizations today have begun to focus more on how they can be more telecommute-friendly, both for full-time and part-time roles.
What are the best jobs for telecommuting?
If you're on the lookout for a part-time job that can be done from the comfort and safety of your home, here are a few interesting options you can try.
Be a Graphic Designer/ Video Editor/ Desktop Publisher. It doesn't need you to handle heavy equipment or engage in face-to-face conversations and is perfect if you have a good computer with an active Internet connection.
Be a Website Designer/ Web Developer/ UI/UX Designer. As long as you don't have a big team to manage and supervise (can still be managed through conferencing), this is also a great job for remote work. Hence, website designing and development ranks among the highest paying telecommute jobs. You just need access to a powerful computer and you're good to go.
Be an Accountant/Bookkeeper. There are many kinds of accounting software available today which makes this job much easier. All you need to do is install the software, and get on with your work.
Be a Sales Rep/ Customer Service Rep/ Telecaller/ Travel Agent. Most organizations today use a cloud-based call center software which makes client interactions possible from any location and at any-time. If you're a travel agent, you have nothing to worry about. All you need is a phone/tablet/desktop/laptop with an active Internet connection to check flight/hotel details. You could be on your personal vacation and helping others with their own holidays. Doesn't sound that unbelievably good?
Be a Stockbroker. If you've watched 'The Wolf of Wall Street', you know it's all about talking sweetly to the investor. You can do that from anywhere! However, it needs some serious skill and knowledge about the market which makes it among the highest paying telecommute jobs in the world.
Be a Computer Programmer/Software Engineer/ Application Developer. Don't we all know that geek of a friend who shuts himself off in his room to work on mind-numbing codes and emerges weeks later after having built an entire mobile app? Bottom line- you can write programs from anywhere in the world if you have a computer/laptop. Moreover, software engineers often bag the highest paying telecommute jobs.
Be a Writer/Reporter/Editor. You can do your writing job anywhere! Unless you are a news reporter who needs to be on the field, get photographs, interview people and the like for your story. Social media contributors, modern-day digital journalists, social media influencers- they all work from where they like.
Be a Medical Transcriptionists/Medical Reviewer. Since this basically involves transcribing audio clips into notes and other material, it can be done remotely as well. So, if you're a medical transcriptionist, rejoice!
What is the highest paying work from home job?
If you're keen on making big money through telecommuting, here are some of the highest paying telecommuting jobs.
Marketing Manager – Salary between 65k USD and 100k USD annually
If your area of expertise lies in B2B, B2C marketing strategy- both digital and offline- and if you have strong people skills, then you can work remotely as a marketing manager. Your work might entail strategizing campaigns and helping other remote/ non-remote workers execute them.
Software Engineer- Salary between 100k USD and 150k USD annually
Jobs in the field of software engineering are some of the highest paying telecommuting jobs. Most of the work software engineers do has to do with programming languages like Java, C++, Python and the like. Software engineers can work from anywhere. They do need to be in constant touch with coders and UX designers, however.
Product Manager – Salary 120k USD annually
A product manager is responsible for a certain product of the company- right from conceptualization to the final output. Though the job is collaborative in nature, a wide choice of conferencing tools can help product managers interact with various stakeholders like marketing and technical teams.
Senior Consultant– Salary 100k USD to 150k USD annually
Consultants primarily serve as the face of a company. They establish client relationships and communicate with their teams to work for the goals of their clients. Quite often they meet their clients over lunch or coffee. This makes consultants among the best telecommuting jobs. In addition to face-to-face meetings, they could also choose to communicate online with their clients. All that they need is a great conferencing application.
Data Scientist- 120K USD annually
This makes for one of the best entry-level telecommuting jobs too. Data Scientists can work from anywhere they like and they usually prefer to work alone. Heaps of data are analyzed by them single-handedly using complex computing frameworks. This data is very useful in making business decisions later.
Attorney- Salary 80K USD annually
Companies always have legal matters to tend to. And a lot of them are okay working with remote attorneys. Attorneys are also some of the best part-time telecommuting jobs to have. So, if you're an attorney, rejoice! Your business is now going online. And with conferencing applications now ensuring privacy and security, your job becomes a lot easier.
Dev(Ops) Manager- Salary 95K USD annually
This role is quite collaborative in nature but can be done from anywhere. A development operations manager needs to work with several teams to ensure various programs/applications are being implemented. At the same time, he/she needs to have access to a computer because most of these programs are database-driven.
Medical Director- Salary 150K USD annually
A medical director is a leadership role. The director must have experience in dealing with medical staff and in strategizing for medical care. There may be some travel involved which makes this role suitable for remote work. Medical directors are typically required to be present on-site once a week or so.
Sales Manager- Salary 90K USD annually plus bonus
A lot of sales teams can work remotely, especially if they have a lot of in-person interactions with prospective clients. So, managers of these teams also usually are asked to telecommute. Be it designing a sales strategy, setting targets or weekly sales meetings- they can all be done via a quick conference call.
Psychiatrist- Salary 200K USD annually
Gone are the days when you had to wait for hours at the psychiatrist's office for your appointment. It's all virtual today. While some eyebrows have been raised over this development, psychiatrists are busier than ever. Virtual appointments are set up via an online booking system and one-on-one sessions happen either via a phone call or a video conference. By not having to maintain an office or an expensive receptionist, psychiatrists end up saving a lot of money.
Conclusion
While these are great options, this isn't an exhaustive list! There are countless opportunities available out there. Remember, any work that does not require you to operate or handle heavy equipment or material, counsel others, or your physical presence (like in the case of a security guard) can be done from home.
So, what are you waiting for? Update your CV, build your LinkedIn profile, and start applying NOW. And do check career opportunities available with Telebu.
Go, grab your dream job. Good luck!
Shalini Singh
Shalini Singh is a creative content writer at Telebu Communications. She loves to speak her mind with clarity and logic. She mainly writes on topics that are at the intersection of modern business culture and collaboration. And when she is not doing that, she is somewhere exploring a new place or just sitting on the couch scrolling through random posts on Instagram.
Related posts
Subscribe to get the latest news & updates.