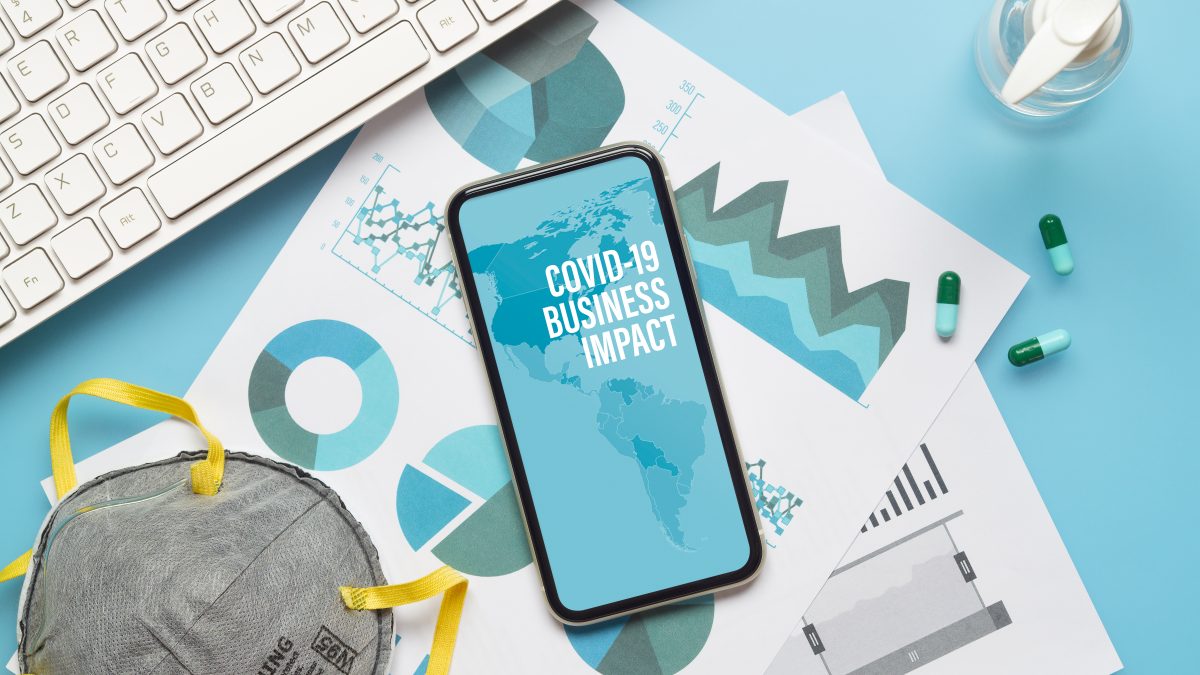 Post-Lockdown Business & Financial Strategies For MSMEs
Krishna Kanth Dittakavi, 10 months ago
5 min

read
256

Facing a global pandemic and a nationwide lockdown, businesses in India and around the world are in for some tough times ahead. Uncertainty in the financial environment is a real challenge for startups and small businesses, especially since they want to keep the wheels turning. As governments modify monetary and investment policies to keep things afloat, there have been a lot of obscure discussions on how businesses may reopen post-lockdown and how they'll survive in a post COVID-19 world.
Here at Telebu Communications LLP (Formerly SMSCountry Networks), we collaborated with tycoons and experts in the finance and banking sector for a LIVE webinar on "Post lockdown Business & Financial strategies for MSMEs".
The aim was to facilitate an impartial discussion on how MSMEs can Enlighten, Empower and Expedite the current pandemic financial situation (and what lies ahead). The webinar was hosted on our made in India video conferencing and webinar platform TelebuJoin. It's an absolutely hassle-free, user-friendly platform, matching international competitor standards in terms of security encryption, customer support, and pricing.
The webinar was a grand success, all thanks to our special panelists and participants from across the country.
Read on to find the key highlights you probably missed out on, but the ones you shouldn't miss.
Panelists
The Finance & Banking Trio

Q&As
We connected with over 100 participants (including MSME owners, stakeholders, banking experts, entrepreneurs, etc) under one virtual roof. The virtual mic was passed around with the "hand raise" feature on the TelebuJoin platform. The panelists also answered the questions understanding the participants' interest and current financial reality. Below, we've listed the most obvious and some trending questions our participants had.
What should MSMEs do to survive?
Mr. HS Kamath– "To survive in the given and the coming circumstances, every MSME should focus on the following:
Improve Production
Reduce Costs – 1₹ saved is 2₹ earned
Rationalize Inventory
Negotiate discounts with creditors
Skilfully renegotiate borrowing terms with banks
Diverted funds should be brought back to books
Find Equity Partners
Be aware of modern technology
Explore collaborative purchase of raw material
Consider Mergers and Consolidations for longevity."
Do you think some sectors deserve special attention? Should they be prioritized? Why?
Mr. HS Kamath– "All registered MSMEs will be covered under the new government schemes and will benefit."
Mr. R S Kumar – "Need of the hour is job creation. The Govt. of India should focus on industries rather than create job industries. This will improve confidence among skilled and semi-skilled workers, and will balance the economy."
Cost of implementing Atma Nirbhar Economy?
Mr. RK Takkar – "This is to strengthen the #MakeInIndia scheme, We need to be more competitive to be self-reliant. This will call for implementation issues like labor & land laws. We need to incentivize local industries to make them global. Atma Nirbhar Bharat is not a cost, it's an investment to make local Indian brands – global.
It is to attract international companies to invest and contribute to our Indian GDP, and so India becomes a top manufacturing hub."
How will life be for businesses post-COVID-19?
Mr. HS Kamanth – "Post Covid19 stage will come when the vaccine is manufactured and made available and affordable to every common man.  We will see a new normal – a no-touch economy and this will remain for years to come."
What do you think about the recovery of MSMEs in a post-pandemic world?
Mr. RS Kumar – "Micro and Small Enterprises have the energy to do the business and don't have resources for shadow banking. They should first conserve funds, then consolidate with customers and then commence their business."
Impact of COVID-19 in Global trade?
Mr. RK Takkar – "Demands of people will change, therefore trade will take a hit. With China being the epicenter, US & Europe have been relooking at everything
Today if you want to buy a car, you will postpone it, but you won't give up on that thought. That's what happens to demand and consumption. Demand will not be stopped, it'll just be delayed. So don't lose hope"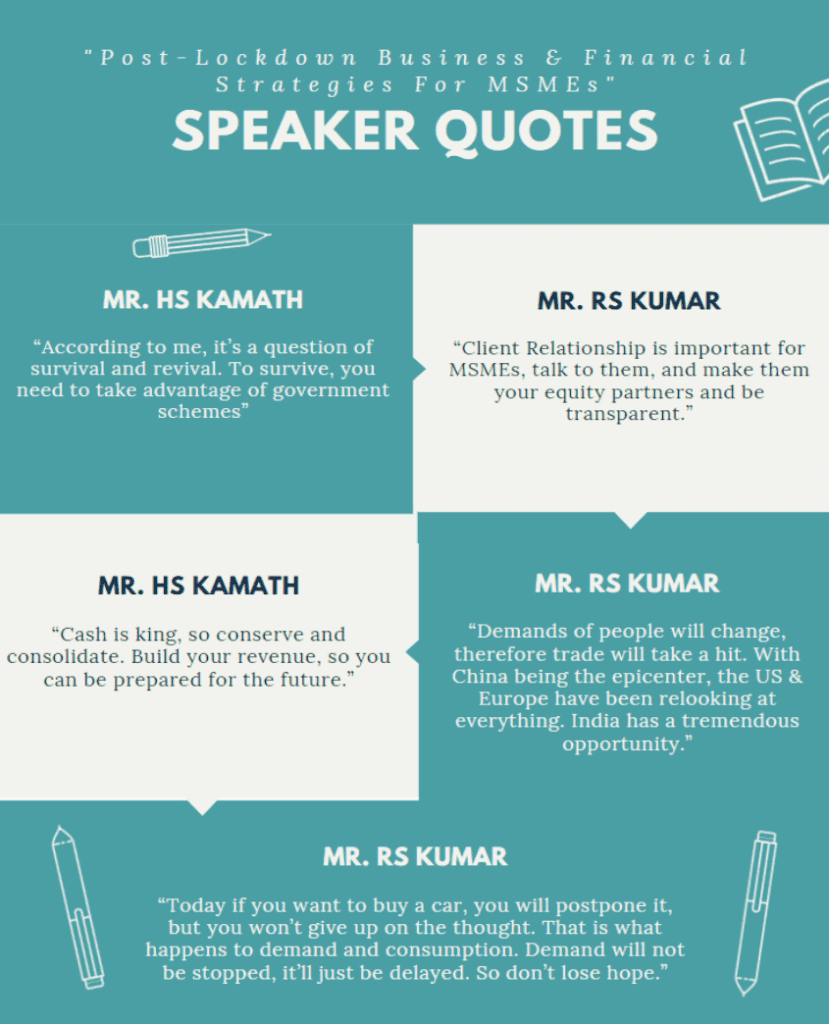 Key Takeaways
The Opportunity and the need to fight and rise
Revolutionize thoughts and actions to get to the new normalcy
Negotiate financial terms with employees, clients, and bankers to build trust
Cut costs and liquidates assets
Upskill and train employees with new technologies
Get over the Vicious cycle and step into the Virtual cycle.
Get a complete understanding of the stimulus packages offered by GOI
Rework on organizational policies and goals to enable a hassle-free transition
Avoid unauthorized/illegitimate borrowing
Conserve and innovate – resources, technology
Consolidate and correct – reports, the position of the business, and tie-up loose-ends
Commence and progress – the livelihood of employees and business and progress with positivity and confidence for a brighter future
Although we had scheduled the 2-hour webinar over a weekend, we got an amazing response from all kinds of people, from all walks of life. And, this has given us the confidence to host more such free webinars on TelebuJoin in the future on topics that will help Nurture & Nourish a progressive lifestyle for the young, skillful, and dynamic powerhouses of India.
Finally, the whole Telebu team would like to thank everyone who participated in this webinar session #FirstOfItsKind and #ManyMoreToCome#ManyMoreToLookForwardTo.
Let us fight Covid-19 maintaining social distance & join hands to #CoWin2020!!
Krishna Kanth Dittakavi
Krishna Kanth Dittakavi, aka KK, is a digital marketer and a content writer at Telebu communications, a former race engineer for a Formula 3 team and a university level footballer.
Related posts
Subscribe to get the latest news & updates.