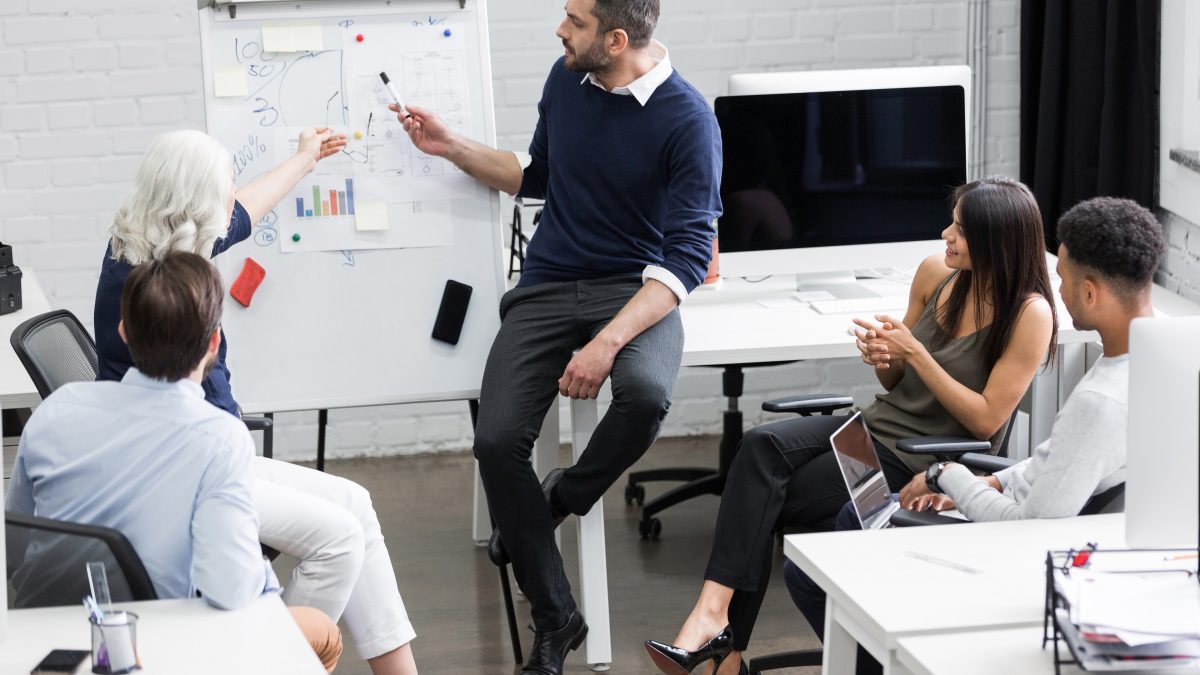 Meetings For Startups: Types Of Meetings To Host
Divya Soni, 2 months ago
13 min

read
108
Most Startups today are scrunched between having no meetings, to having so many that they hardly have time to work. Meetings often pander to the whims of the management, which, when continued, can hamper productivity and collaboration. 
The agenda of meetings, when shrouded by the corporate play of power and politics, seldom carries the day. This is why hosting the right meeting with the right agenda is imperative to success.
When out of moderation, meetings can easily become a waste of time, money, and manpower. That's why striking the perfect balance is the modern meeting nirvana that startups are so desperately keeping a lookout for. 
Meetings For Startups: Why Are They Necessary? 
Meetings are the backbone of communication. They provide a platform for teams to collaborate better. When hosted structurally, meetings can work wonders. Be it brainstorming, problem-solving, or team building, meetings bring your teams closer, help increase their collective productivity, and facilitate newer ideas. 
However, just to increase productivity, if you slap your employees with recurrent meetings that lack an objective or an agenda, your employees will be frustrated. Not only should you moderate the number of meetings, but also ensure that they are succinct, precise, and logical. If your issues can be addressed informally over a cup of coffee, don't waste time in sending calendar invites. 
This doesn't mean that you ignore meetings altogether. As a startup wanting to succeed, here's a list of meetings that you shouldn't miss out on:
Huddle Meetings
Why to host?
These are short meetings that are held by different teams before they begin their day. The agenda of this meeting is to discuss what's on the table. After which, the team leader or manager assigns work to the respective members. (s)he also rolls out important updates, so the team can be on the same page about daily events at the office. Additionally, managers can utilize these meetings to address any concerns that your team members might have, and try to resolve them immediately.
When to host?
These meetings can be hosted daily, biweekly or weekly, depending on the shift timings and the team bandwidth.
Who can attend?
Finance, HR, Marketing, or Design teams can host huddle meetings respectively. Full team presence proves to be beneficial and paves the way to foster internal collaboration. Other stakeholders- VPs or CXOs can attend as per their discretion.
Example:
At Telebu, the Online Sales Operations team reserves the conference room from 10:00AM to 11:00 AM every day. Team Leaders- Hussain and Ram Teja, discuss the important leads, get updates, and share information with the team. Vasu, the team manager, graces the meeting with his presence sometimes, to be on the same page as the team.
Sprint Meetings
Why to host?
Popularly known as scrum meetings, product teams can host these meetings to make plans, make updates or discuss sprint backlogs. They can devise time frames for each sprint, to finish the project in time. 
When to host?
It's recommended to host sprint meetings regularly. Each meeting starts off with the ramifications of the previous ones. The team can study each sprint's development and decide to meet daily or once in two days, with or without the presence of the product owner.
Who can attend?
The product owner along with all the personnel responsible in the product journey, from tech to marketing to sales, should attend these meetings.
Example:
When grptalk changed from orange to blue, Anudeep Reddy hosted Sprint Meetings with his product team for grptalk. They discussed the app developments, decided the sprint timeframe, and crossed out all aspects of the transition. Pratik and Ameya from Marketing; Sudheer and Vasu from Sales and OSO, would also attend these meetings to be on the same page.
Status Meetings
Why to host?
Though Status meetings may sound a lot like sprint meetings. There's one distinctive difference between the two. Sprint meetings revolve around product development, while status update meetings can be for any project across the organization; be it the new Facebook campaign or a recruitment drive. Status meetings are not necessarily broken into segments (like sprints), but can be hosted randomly.
When to host?
Status meetings are usually hosted by the key stakeholders to get updates on the ongoing projects. These can happen weekly, fortnightly, or quarterly, based on the demographics and size of the people involved.
Who can attend?
If you have a large project, it may not be feasible to include everyone. In this case, limit invitations to colleagues who can attend the meetings at your beck and call, while also contributing majorly to the project.
Example:
Team Wanasatime, Telebu's online ticketing platform for the GCC market, meets across boundaries via TelebuJoin or grptalk, to discuss the specifics of every event. Sana, our Marketing Manager usually hosts these meetings to get updates from team leaders in GCC. Nisha- VP Marketing, and Satya- CEO of Telebu also attend these meetings sometimes.
Problem-Solving Meetings
Why to host?
When people collaborate, misunderstandings are bound to occur. Whatever may be the cause, the effective resolution is of utmost importance. This is why it's crucial to host Problem-solving meetings. As the name suggests, the agenda is to find the most suitable solution to a problem that might arise with regard to project analytics or the team members collaborating. 
When to host?
These are short, impromptu meetings that are hosted when the project manager senses trouble. If you are a leader who waits for issues to resolve at their own pace, you're literally inviting trouble. Try to fix any and every issue in the nick of time, and if need be, send out those calendar invites often.
Who can attend?
My suggestion is to not crowd problem-solving meetings. Unnecessary involvement of stakeholders or other opinion leaders will only prolong the meeting and leave you with no workable solution in hand. I'd rather you involve only the concerned people and focus your energy on getting a solution, than giving in to corporate formalities. 
Example:
When the Digital Marketing team runs a Facebook Ad Campaign and for some reason, it doesn't fall through, Varun or Ram Krishna Palakurti calls for a meeting with Sana and Pratik to discuss the aftermath. These meetings are short and very effective due to the absence of micromanagement. You can call it a Corporate Laissez-faire.
Decision-Making Meetings
Why to host?
Unlike Problem Solving Meetings that are called for after a certain problem shapes up, Decision-making meetings are scheduled well in advance. The agenda of these meetings is to formally take a call on two or more things. A secure commitment from the team and the key decision-makers are the prime takeaways of such a meeting.
When to host?
Whenever a new idea or strategy is shaping up, you call for a decision-making meeting. These decisions in turn shape the journey of the project. Therefore, it only makes sense if you host them at the beginning of starting a project. These are not to be taken lightly.
Who can attend?
When the entire team attends decision meetings, where all the KDMs are present, they have clarity on who will do what. Otherwise, the manager will end up wasting his time in explaining everything from scratch, repetitively.
Example:
When the HR team, led by Farha and Madhuri have to make decisions regarding the campus recruitment drive. They will call for a decision-making meeting, where they will hear the campus suggestions from the team, finalize the universities, and assign people to specific tasks. 
Bonus Read: This Is How Steve Jobs, Jeff Bezos & Others Do Business Meetings
Review Meetings
Why to host?
Performance review meetings are an important aspect of every enterprise to find out the value of your assets while keeping their actionable tasks in mind. You need to know the value your employees are bringing to the table, what they're good at, and what can be better.
When to host?
Most companies have performance reviews annually, half-yearly, or quarterly. Review meetings are usually hush-hush. And even though they're actually for the employee's benefit, it sets them off in trepidation. Therefore, be mindful of the timeframe and make the most of it.
Who can attend?
Performance review meetings are basically formal one-on-ones organized by the HR team. So one employee attends the meeting at a time, and faces a panel of HR or any one of them, as deemed appropriate by the company themselves.
Example:
Telebu conducts annual review meetings, where every employee is comforted, their problems catered to and their accomplishments celebrated and rewarded.
Team-Building Meetings
Why to host?
Dreaded by some, loved by the rest- Team building meetings may arise contrasting opinions, but are extremely crucial to maintain an atmosphere of fun amidst all the work-talk. They are also a great way to get to know your team better and establish relationships among different team members.
When to host?
This solely is as per the discretion of the team manager. It can be monthly or fortnightly.
Who can attend?
Individual team managers can host these meetings with their respective members. It's advisory to not invite any senior executives, so the meeting remains up close, personal, and non-judgemental, where every employee can speak their mind without any inhibitions.
Example:
The Marketing team meets every Saturday, to have fun and build the team's foundation. What's special about these meetings is that they nominate different hosts every week, who set the agenda and take the meeting forward, followed by a fun activity that they plan from scratch.
P.S: Covid-19 didn't stop the Marketing team from having fun either. 😉
Innovation Meetings
Why to host?
What some may call Strategy meetings, we call Innovation meetings. As the name suggests, these meetings are called for to innovate, brainstorm, and think out of the box, for a particular product or project. The agenda of the meeting is to acknowledge the competitors' innovation and ponder over how we can be better, or what can be made better, to give our clients a smooth and unforgettable experience.
When to host?
Needless to say, every time you come up with a new product or revise features of an existing product, you can call for these innovation meetings. 
Who can attend?
Mainly the Senior Management, along with a few managers responsible for leading the project directly, are involved in the Innovation Meetings.
Example:
Before the launch of TelebuJoin Video Conferencing, the Ace Team of Telebu- Satya, Nisha, Prasanth Yerrapragada and Vasu, would come together in a room and discuss how they can innovate, to make the TelebuJoin experience, top-notch.
Board Meetings
Why to host?
Board of Directors- the supreme entity that takes decisions on matters involving the company. They are held to predominantly discuss the health and profitability/non-profitability of an organization. 
When to host?
The government has actually laid out the rules and regulations of when and how to host board meetings for various public and private companies. But, for small companies, it's obligatory to conduct a minimum of 2 Board meetings in every financial year.
Who can attend?
All Board Members are required to attend these meetings. The minimum quorum is 1/3rd of the total Board of Directors.
One on one Meetings
Why to host?
When a manager leads a team, he is also responsible for their mental health, well-being and work satisfaction. Due to obligatory responses, some employees might shy away from speaking their mind. That's when the importance of conducting one-on-ones falls in place. These are informal sessions conducted by a manager with their team members, streamlined towards creating an open and safe space for the employee to talk about anything that bothers them.
When to host?
As per the manager's discretion, these meetings can be hosted monthly or quarterly. I'd suggest startups to host these meetings at least once a month, otherwise, some things might become oblivious and may strike back later, when you least expect it. Better safe than sorry!
Who can attend?
Needless to say, these meetings involve two people only- the team member and the team manager, to uphold the employee-employer confidentiality.
Example:
Nisha, VP-Marketing, conducts one-one-ones with the team, by sending out calendar invites once a month. She discusses their life in general, gets to know them better, and tries to resolve their problems, if any. It's a great way to make team members feel at home.
All-hands meetings
Why to host?
All hands meetings, town hall meetings, or Fri-yay meetings- Many names, that provoke one feeling- togetherness. 
These meetings are hosted across offices as a way to bring everyone together as a collective unit. They are hosted to address all the employees at once- be it policy changes, product updates, media coverage, or simply the celebration of individual victories. 
When to host?
Most offices spread across boundaries like to host these meetings annually, to cut down on travel costs. Instead of splitting budgets, they prefer to have one magnificent event, and go all out. But, if you are a company that doesn't have scattered teams, you can choose to have them monthly or bi-annually.
Who can attend?
Every employee of the office, no matter which team, no matter what designation, should attend these meetings. The CEO or any of the other senior executives address these meetings and take charge.
These 11 meetings will help every startup maintain a structure that's a prerequisite for growth. But despite going by the book, meetings, like I said earlier, may be unfruitful and feel like a complete waste of time. There are only two reasons why your employees might feel this way:
Your meetings are boring, monotonous or fail to adhere to the agenda.
You host too many meetings, where people digress from the topic, and stain collective productivity.
Luckily, I have solutions that can help address both these situations. When you stick to the bare minimum meetings, as I mentioned above, monotony or repetition will be the least of your worries.
While you host these meetings, try to experiment and make them fun. Take complete advantage of being a startup by letting go of traditional meeting/conference rooms. Futz around with different venues for your meetings- perhaps the lawn, or a quiet coffee house down the street.
And when option 1 is not feasible, Telebu's got you covered with these promising tools:
grptalk– An audio conferencing app that connects 3-100+ people in <30 seconds. When you have an issue that needs immediate attention, especially when you are working remotely, pick up your phone, create a group, and schedule your on-call meeting, for faster resolutions.
TelebuJoin– A video conferencing tool that lets you kindle the emotional spark, vis-a-vis. When you think that you need to gather your colleagues in a room, we'll help you do that, only virtually. Get dedicated meeting rooms for yourself, so while devising strategy or addressing problems, you remain uninterrupted.
TelebuPing– A robust enterprise chat software that brings your company together, on one platform. Be it cross-functional collaboration or decision making, create unlimited groups, and get instant updates. Rest assured, privacy and confidentiality will not be one of your pressing concerns. That's our word!
Conclusion
With startups becoming more self-reliant, it's high time your employees and your meetings become self-reliant too. So let Telebu help you revolutionize the way you meet, while you launch your mission to achieve skyrocketing success!
Divya Soni
Divya Soni is a Content Writer at Telebu Communications. For the most random conversations you want to have, she's your go-to person. She loves Coffee and Dogs more than people. When she's not at her desk, you can find her playing with Fufu or sipping on her double shot espresso at the fire exit.
Related posts
Subscribe to get the latest news & updates.