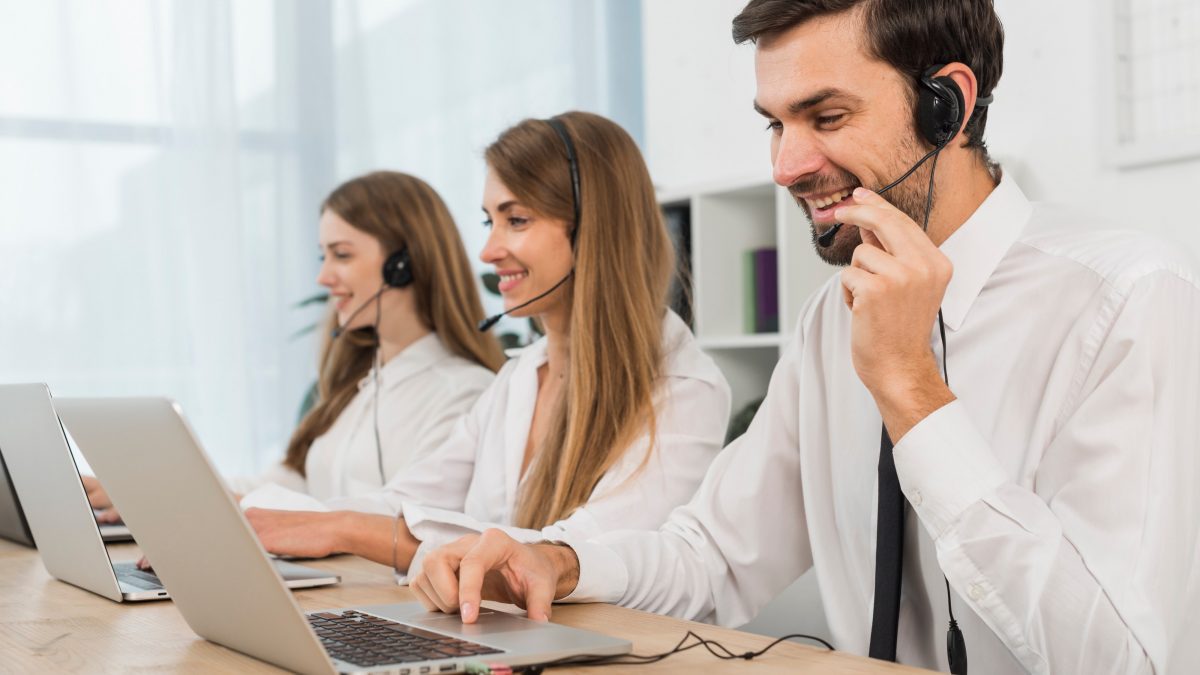 7 Must-Have Features To Look For In A Call Center Software
Sanjna Lal, 5 months ago
6 min

read
0
Technology is rapidly evolving every day, striving to make things easier and efficient for us. It is no doubt that problems arise often when using the technology of any sort. While these evolutions are designed to minimize the middlemen, customers still prefer to have a conversation with a person that can readily solve their problems. Call center software services guarantee that these processes are undertaken smoothly and efficiently.
Using a call center software does just that! So of course, you must be wondering what exactly is a call center software and why it matters to better the experience your customers want. In short, a call center software aids your team to manage customer communication over the phone through outbound and inbound calls, interactive voice response (IVR), menu options, ticketing, or centralizing the communications happening on different platforms in a single window. There are some key features that every contact center software should have to ensure that your team can effectively manage the services provided.
Source: CallMiner.com
Choosing a call centre software can be hard, especially since there are loads of options out there. Depending on the type of services you want to provide, you need to conduct research to weed out the options not suited for you. Individual companies have different needs, whether small or big; depending on that your customer care needs also differ. This article will help you understand some of the features that are extremely pivotal for a smooth sailing customer care experience.
The 7 features are as follows:
Interactive Voice Response (IVR): IVR is an automated response technology that interacts with callers, and accordingly gathers information that routes their concern to the desired parties. This process is undertaken through dual-tone multifrequency signals (DTMF) that are enabled through the pressing of your telephonic keypad (menu). IVR provides better customer service as the call is answered on the first ring. It reduces costs and boosts efficiency for both the client and the company. By using this automated system, receiving a large number of calls is not seen as problematic. This is because the system routes the caller to the rightful agent and even has the 'wait in the queue' option.
Cloud-Based System: A cloud-based system means that the calls are being hosted in the cloud by a business phone service provider. This type of system relies on the internet rather than on-premises communication. This is extremely cost-effective and can be set up within minutes without requiring the need for IT specialists. Using a cloud-based system allows for agents to work remotely with ease and can even be referred to as a virtual call center.
Blended Call Centre Solutions (Inbound and Outbound): An inbound call center receives calls from customers to clarify their queries. An outbound call center makes calls to potential customers (cold calls) about their products. A blended system would entail both these practices being undertaken at the same time. Having a call center software that allows for both these operations to take place all in one location will provide variety to services offered. It will also provide a smooth experience for both the customers and the business. Additionally, having software that allows for outbound calling campaigns (pre-recorded) will also be beneficial if your company focuses on broadcasting messages.
Source: ProRemodeler
Analytics and Reports: Having relevant analytics can ensure improving the performance of a call center. Gaining a holistic understanding of customers can prove to be useful when dealing with them. Using real-time interaction data and performance analytics, agents will be able to provide better services thus boosting customer satisfaction. Choosing the customer support software that generates exhaustive reports to gain better insights into their journeys is of extreme importance.
Customer Relationship Management (CRM): Having an in-built CRM system in your contact center software provides a better insight into the customers' history. Before even picking up the call, the agent will be able to view past queries and issues raised by the customer. This adds a personal touch and streamlines the process for all everyone involved. Through a ticketing system, the agent can easily create a new ticket and key it into the system for other agents to view. This tactic is useful for converting sales or bringing back lost customers.
Social Media Integration: Integrating Social Media into your software provides for a quick resolution for the customer. Having a contact centre software that is integrated with social media, allows agents to quickly respond to customers. Additionally, a lot of customers turn to social media first before opting for one-on-one calls with a service representative. The integration allows for easy access to CRM data and metrics which improve the services provided. Social media is evidently the future of customer service, a call centre software with an integrated social sphere is highly important.
Source: TimeDoctor
Live Call Coach (Whisper Coaching): If an agent is still in training, a coach can get on the call and guide him/her through the process of resolving the issue of the customer. With this feature, a third person can interact with the operator without the caller being able to hear. This comes in handy for training, mentoring, and monitoring.

Now that you're clear on the imperative features of a call center software. You must be wondering which software has all these features and many more. Here are a few call center software in India: TelebuHub, Call Hippo, Exotel, and Servetel. They offer a virtual cloud-based software that includes a wide variety of integrations and APIs.
There are loads of softwares to choose from! Ultimately, it depends on the needs of your business and your budget. The end goal remains the same for everyone, to boost customer satisfaction. There are some more softwares that offer their services globally as well.
I will look into one call centre software, so you can better understand the features of these types of softwares.
TelebuHub is a call center software that has a variety of features, some of which can be tailored to your requirements. They operate out of India and the GCC region, namely, Qatar, Bahrain, UAE, and Saudi Arabia. TelebuHub merges all the call center essentials into one software.
Dashboard/Home screen of TelebuHub
Some key features include:

a) IVR Studio (Design your call flow)
b) Outbound calling campaigns
c) Call history/recordings (live calls)
d) CRM and Ticket management system
e) Choose from On-premise, On cloud or Hybrid solutions
e) Agent Scorecards
f) Social Media Integration.
g) Real-time Analytics & Reporting
TelebuHub provides users with top-notch UI, UX, and scalability that ensures a smooth sailing experience for all parties involved.
Here is a quick video on a how call centre software operates:
Conclusion
So what's your takeaway from the above mentioned information? Analyze all the features before making the right selection for your company, especially the ones that boost efficiency and customer satisfaction. Choose the best call center software for your company that unifies customer services across multiple channels. And of course, consider the cost; if it is within or beyond your budget.
Remember:
"A satisfied customer is the best business strategy for all" – Michael LeBoeuf.
Sanjna Lal
Sanjna is a content writer at Telebu Communications. She has always found her passion for writing, not just on a work level but also on a personal one. Having lived in over 4 countries during her lifetime, Sanjna loves exploring different cultures. If she isn't working, then she is indulging her taste buds in different cuisines (especially the spicy ones)!
Related posts
Subscribe to get the latest news & updates.