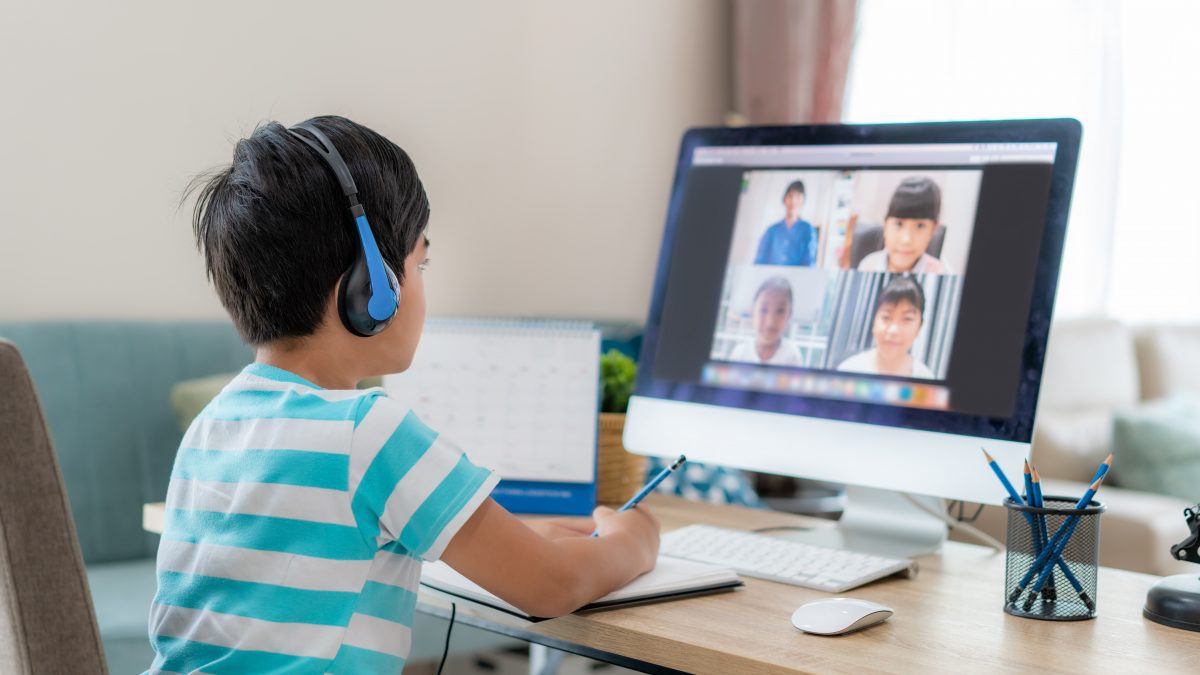 Video Conferencing: The Educational Revolution In India
Dev Madhav, 9 months ago
7 min

read
0
The ongoing pandemic scenario has put a burden on all spectrums of society to switch towards remote options to get work and study done seamlessly. Taking up the initiative included a switch towards video conferencing. It might seem unlikely at the beginning, especially with a virus stationed outside your window, however, in practice, success is certain. 
Both the public and private sectors have purposefully embraced the initiative and have utilized it for substantial success. The biggest example, in this case, can be seen in the education sector, which undertook a massive shift from regular classes to online classrooms.
In March 2020, the CDC (Centers for Disease Control and Prevention) issued guidelines to educational institutions, including the utilization of alternative teaching methods. These are primarily online and distance learning. Here are some stats that indicate reactions from the majority of institutions following the decision,
98% of institutions moved in-person classes online
95% of institutions suspended travel for faculty and staff 
93% of institutions implemented work-remotely policies for staff 
43% of institutions had invested in new online learning resources such as audio/video conferencing tools
While it has to be stated that the online method does not grant the same level of human-to-human connection as a conventional classroom, the benefits it brings to the table are not to be understated. 
With the array of digital tools presently available, educators can bring a whole host of features to streamline the teaching process without making students feel encumbered.
From personalized classes, webinars, and flexible training sessions, technology has brought a whole new layer of flexibility which was not practical with conventional methods of learning and education.
Imagine being able to access personalized expert advice without all the fuss of planning out a high-profile seminar or traveling to the venue for the same. Imagine being able to listen to a valued person speak on the subject from the comfort of your own home at your own pace.
Well, you do not need to imagine, since the prospect is already there!
How impactful is digital education in India?
The question naturally arises especially because India in general has been a step back when it comes to embracing the concept. Sure, we prefer our conventional classes, but the predicament we find ourselves in required the change.
However, after the initial novice blues, students and teachers alike found out the advantage it brought along with it. From kindergartners to post-graduates, up-skill courses to continued learning programs, everyone struck a chord with learning online in some way or the other.
And the impact is right in front of us.
As for the validation of whether institutions are confident in pursuing the new mode of learning, here are examples to consider:
IIT Madras just rolled out a BSc Data Science program, complete with flexible timings and course structure giving students the chance to learn while working or studying another degree. Such a prospect would not have been possible with the conventional systems. They are confident that this is something that can be pulled off successfully, owing to their previous experience with online classrooms.
The local kindergarten teachers have now started making interactive videos and presentations, the physics teacher who can now embed inspirational space videos and talk through the concepts while watching the video with his students and the college professor being able to connect with his post-graduate students on a wider timeframe at his and his student's discretion.
Digital education comes with its perks. Doesn't it?
Here, at Telebu, we have witnessed a significant increase in the demand for our remote collaboration tools, grptalk and TelebuJoin, among educators and eLearning professionals. That signals the potential of audio/video conferencing and webinars in education.
The acceptance of institutions and communities to this development has been staggering with online courses taking the centre stage. So, the next important question is – What are the major factors which instigated this seamless transition towards education through video conferencing then?
Based on what we've witnessed, here's what made it clicked:
1. Revolutionizing global collaboration
For the first time in history, students can genuinely say that they have the chance to sit with peers from all across the globe, literally. This in turn enables a transition from the confines of the conventional classroom to a platform that initiates a cultural exchange and the development of a global outlook.
Educators can bring in virtual field-trips, media, and face-to-face interactions to engage the learners and improve their individual experiences. Students on the other hand have the flexibility to connect with subject matter experts and receive personalized training.
2. Breaking infrastructure and cost barriers
The lack of infrastructure to provide leading educational services to students has always been a problem in India. Video conferencing software has managed to provide a cost-effective, impactful, and efficient solution. With just the requirement of a computing device and a network connection, students in rural areas, where the infrastructure deficiency is most acute, are now able to pursue their educational interests unimpeded.
The added cost-effectiveness this naturally brings in, such as the nullification of hostel rents and travel charges, reduction of tuition fees and much more have enabled the poorer sections to better afford their learning too.
3. Revamping Learning Structures
Outdated curriculums have long been a bane for education. But all that changed with the advent of online classrooms. Institutions are revamping and ensuring a modern learning structure that will fit in with video conferencing classrooms.
This has catalyzed a shift towards new and more effective learning patterns that focus more on the student and his/her individual preferences when it comes to timing or the choice of courses. Interactive learning is the name of the game now, and video conferencing platforms require this to be a necessity, thus thrusting the education sphere into the modern world.
4. The advantage of learning at your own pace
This perhaps is the stand apart superpower that an online classroom grants you. The ability to learn when you want, without being limited by set timings and generalized approaches weaves wonders when it comes to educational input and output. The ability to record live sessions and play them back at your discretion or the chance to connect with teachers for clarifications at any time from any place has substantially improved individual learning experiences.
This in-turn also improves the parents to be in tune with their child's learning, without being overwhelmed by clashing timetables of their own work and their children's education. The advantage is not just for school kids, rather it is even more visible in the case of working professionals who are looking to upskill themselves. The flexibility of an online class offers them the chance to continue bettering their knowledge and skill set without affecting work.
5. Administration made easy
The effectiveness of video-conference based education is not just limited to the students and teachers. Conferencing software can act as a powerful administrative tool in regards to its ability to quickly circulate education as well as notice material, reach and tabulate everyone in real-time, and conduct parent-teacher meetings easily and on a more interactive and personal level. The potential use case scenarios extend towards processes like training and updating the teaching and non-teaching staff, conducting teacher meetings, planning events, and so much more.
So, is this the future for education in India then?
The benefits of online education are pronounced and it is going to go inevitably in the future. But is it the end of the conventional way of schooling?
No, Absolutely Not.
eClassrooms and eLearning aim to add and improve the existing education/learning system, not replace it.
They lay open new avenues for students and professionals alike to explore and add on to their education. Additionally, they open opportunities for those who cannot (or don't wish to) pursue education through conventional ways.
Sure, nothing beats having that game of football with friends at school, or the tea and cigarettes in college (mandatory injurious to health disclaimer).
But human life is all about change and evolution. Isn't it?
More importantly, until we get over this whole Pandemic situation, education through online means like video conferences and webinars is the best chance we have got. It's an alternative path with added benefits. Also, once everything settles down again, the Indian education system would have found a new-age approach to imparting knowledge.
And that's something we should all look forward to.
Liked what you read? Then subscribe to Telebu Blog for more such reads.
Related posts
Subscribe to get the latest news & updates.