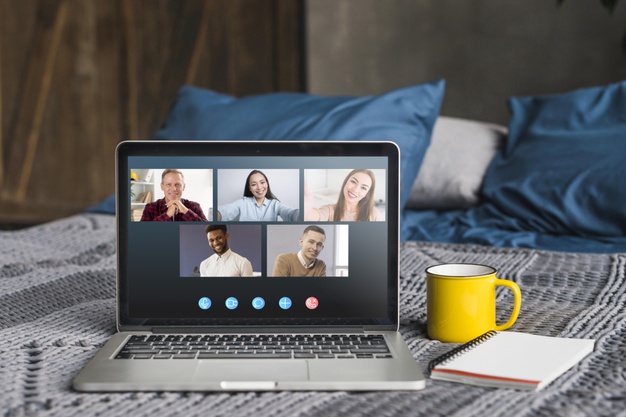 Video Conferencing in the WFH age: Here's Everything You Need to Know
sahithi vakkalanka, 3 months ago
5 min

read
0
As the remote workforce continues to grow, video conferencing software has become the most important team communication tool in 2020.
Video conferencing platforms allow for company-wide and face-to-face team communication while accompanying collaboration features like screen sharing and real-time file editing, which all bolster collaboration.
The rise of a remote, geographically dispersed workforce is the biggest reason for the increase in reliance on video conferencing as one of the most important remote work tools. In 2020, the use of video conferencing skyrocketed because of the COVID-19 pandemic and the resulting lockdowns. But remote work was on its way to becoming the new normal before that, as the statistics show.
55% of companies allow for remote work
Remote work will increase by 77% from 2019-2022
Remote gig work will increase by 19% from 2019-2022
30% of employees are full-time remote workers
62% of employees work from home occasionally
From 2010-2020, there has been a 400% increase in the number of employees who work from home at least once a week
These video conferencing statistics illustrate not just the benefits of a remote workforce, but also why today's companies must invest in video conferencing tools like Zoom, Cisco WebEx, TelebuJoin, Skype etc. in order to improve internal and external communication.
Advantages of Video conferencing
Video conferencing presents countless opportunities for businesses. Whether it's engaging remote workers, collaborating across departments and locations, interviewing job candidates, or managing suppliers, the technology is efficient, cost-effective, and scalable.
Below are a few tangible benefits of video conferencing software and its potential applications for your business.
It's More Engaging than Audio Conferencing
Participants in audio conferences tend to zone out and multitask because they feel disconnected from the other members in the meeting. With video, however, there's pressure to maintain "virtual eye contact", translating to superior levels of engagement.
It's Efficient
Reduced commuting time is one of the most obvious but significant benefits of video conferencing. In-person meetings with suppliers, clients and satellite offices can take up valuable hours of your day; even an hour-long meeting can quickly eat up an entire morning when accounting for travel time, making it a frustrating and inefficient activity.
And if sustainability is a mandate in your organization, teleconferencing is a far greener alternative than in-person meetings. In fact, a study conducted by students at the George Mason University found that driving to a meeting one hour away uses the equivalent electrical power as 1,000 hours of web conferencing.
It Saves on Travel Money
Not only is travel time-consuming, but it's also expensive. People often travel great distances for training, conferences and business meetings, and in most cases, these in-person communications can be accomplished via video conferencing. Save the money you would spend on business travel and put it toward other business priorities.
It Helps Employee Retention
It's no secret that a good work/life balance is essential to employee retention. The mobility and flexibility offered by video conferencing gives people more control over their work days, and this leads to improved retention. You can also keep remote workers feeling more connected and part of the team when they can connect face-to-face with their co-workers on a regular basis.
Disadvantages of Video Conferencing
Despite all the numerous pros, video conferencing is not without its drawbacks. Let's discuss some of them:
Less Personal Contact and Understanding
55% of our understanding comes from body language. Even though video conferencing allows people to see each other, it is not always capable of recreating real live communication.
Network Instability and Time Lag
It is an obvious problem with video conferencing.
The connection may not always be perfect, which sometimes leads to blurry image transmissions and the loss of important visual cues. Sometimes you may not even hear other attendees, which is annoying at best and deal-breaking at worst. However, even with the perfect connection time lag is inevitable.
Technical Issues and Employee Training
Not everyone will be comfortable using a conferencing platform from the get-go. Companies and universities need to allocate time, money and human resources to train the employees. However, even after thorough training, people will need days or even weeks to get used to the new mode of communication.
It is necessary to train others on what to do and who to refer to when technical issues occur since those can disrupt important negotiations, exams, and quizzes. Usually, it would be tech support of your chosen conferencing platform.
More Stress and Less Organization
The ability to contact anyone anywhere at any time has an often-overlooked dark side.
When people know they can set up a video conference whenever they want, they are prone to being less prepared for it than for an in-person meeting.
As a result, employees might be forced to sit in conferences outside their working hours, trying to clean the mess than could have been prevented with a bit more organization.
Impact of Video Conferencing
Web conferencing is quickly becoming the new standard in meeting formats, replacing standard conference room meetings, or audio conference calls.
Video/Web conferencing statistics show that:
87% of remote employees say they feel more connected and involved with teams and projects when using conferencing
55% of businesses say conferencing effectively increased employee engagements
66% of business executives say conferencing helps them to better connect with freelance or gig workers
87% of team members say video calling has helped to speed up the decision-making process
(Sources: Forbes, Fast Company, Parmetech, Lifesize, Gigaom)
The Future of Video Conferencing Apps
Though Coronavirus certainly accelerated the future of video communication, the above conferencing statistics prove that the majority of businesses were already using these tools.
The video conference market share is expected to grow to $50 billion by 2026.
Related posts
Subscribe to get the latest news & updates.