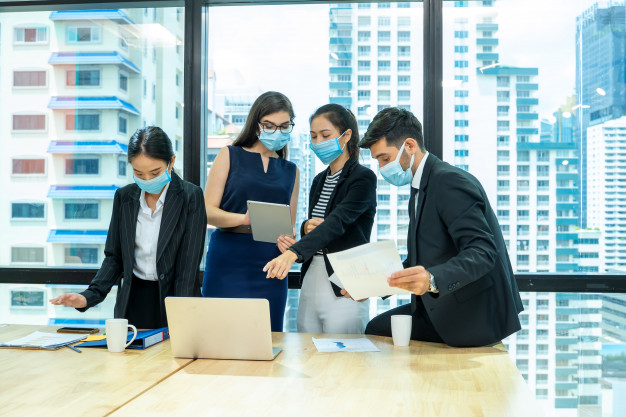 The Future of Workplaces: Reconfiguring Post-Pandemic Work Life
Sanjna Lal, 7 months ago
7 min

read
0
The distant memory of waking up early in the morning, getting dressed up, and rushing to work plays like a loop in our minds. We slowly roll out of bed, in our day-old PJs, and make our way to our makeshift home workspace. 
The loud sounds of the TV coupled with the bedlam of screams of our kids running around, makes us sigh "I wonder when I will get back to working in the office". As we move into the 8th month of being stuck at home, one can only wonder what life on the other side will be like.
Upon closer inspection it appears quite a number of people have developed a liking for WFH. A recent survey by Gallup Research found that 59% of US workers wish to continue working remotely post-pandemic. 
With that in mind, we can only speculate what post-pandemic work life will look like.
Will it feel unusual working in an office? Will we forget how to interact with our co-worker's face to face? Will, we bid farewell to video conferencing?
There are so many unanswered questions, that this article will unpack as it tries to speculate the work-life possibilities post-pandemic.
The absence of a vaccine and the recurring waves means strict standard operating procedures (SOPs) need to be followed, if and when offices reboot. Here are four speculations, that I think will redesign the architecture of our work-life.
Redesigned work environments
Thanks to COVID 19, our work environments may have changed for good.
In March 2020, the World Health Organization (WHO) released a set of guidelines titled 'Getting your workplace ready for COVID-19'. The guidelines emphasized heavily the need for sanitation and the regularity it requires.
Every single person functioning in the building would be required a proper mask. Employees and persons setting foot in the office would need to wash their hands regularly. Alternatively, hand sanitizing stations would have to be placed all over the office space. 
The placement of the seating arrangement would have to be restructured in such a way that there is a 2-meter distance between each person. Large posters that promote sanitation and cleanliness, and serve as reminders to people would have to be displayed in large. See an example below: 
Conferences and meetings will require a re-configuration in terms of layout and occupancy. If the occupancy is at max, employees can join in via web meetings from their workstations itself.
All this also calls for flexible furniture that can easily be moved around without causing much damage to the interior. Water cooler conversation and pantry gossip sessions will have to be moved to the virtual realm. 
Remote Working as an Alternative to Reduce Foot Trafic
As an alternative to foot traffic, remote working has and will continue to play a big role in our work lives.
Employees will have to be assigned to a group (Group A, B, C, and so on). Team leaders will need to come up with a plan that decides which group will be physically working in the office on particular days.
For example, Group A & B can be assigned to work on Mondays and Tuesdays, Group C & D on Wednesdays and Thursdays, and on Friday everyone can work remotely (leaving enough time for thorough sanitation processes to take place).
Some employees may want to work remotely entirely, while others may choose to operate from work about half the time. There will be employees that will not be in the region, that will be working remotely full-time.
Surveying employees to gain a better understanding of their preferences, can help you come up with a seating chart and plan. Employees coming into the office can be allowed entry in parts at different timings. Security personnel should be assigned to all entry and exit points, to ensure all these procedures are followed.
Technological Advancements
Technology has helped us in ways we cannot imagine. Even during the pandemic, technology has been the glue that had held everything together.
It will therefore continue to hold us in place after the pandemic. All the reconfiguration our workplaces will need will only to possible thanks to the use of technology.
Artificial Intelligence tech will particularly come in handy in streamlining retail operations.
Cloud-based technology is already on the surge and will continue to be so as various companies move into the virtual world. The world-renowned company, Microsoft has reported a 775% increase in cloud service since COVID-19. This type of technology will only improve and will continue to be implemented in various applications and platforms.
Cybersecurity has been compromised on numerous occasions during the pandemic. From phishing attacks, mail spams, ransomware attacks, zoom bombing; the focus on cybersecurity is great than ever. Protecting vulnerable data from hackers is the reason cybersecurity companies will be improving their technology to protect companies.
There will also be a continued increase in software that helps COVID-19 management. One such software, Space Right, is specifically designed to help offices design their seating arrangements and limit the number of people physically present.
A Shift In Human Connections
The post-pandemic work life will not resemble that of its prior time.
The experience as a whole will change, and that is something we need to be mentally prepared for. Handshakes have been made redundant by the virus. A firm handshake is no longer a variant in the judge of character.
Taking group pictures side by side with your employees cannot be done without 6 feet distance. Spending your break time in the office pantry lounging around trying to eavesdrop on the new joiner is and will not be part of our experience any more.
Our reliance on the virtual sphere to replace social connection is already happening right now. Once we go back into the office, any form of social interaction will have to be minimized. Usage of video conferencing software and text messaging will be the new way of having watercooler conversations.
Conclusion
Some of these speculations are happening as we speak.
A number of companies have opened up and are operating with strict SOPs in place as mandated by their relevant governments.
Tata Consultancy Services (TCS) resumed their office operations with 1% of their staff on-board. Flipkart, Panasonic India, Dabur have similarly restarted their operations with a very small percentage of their employees working on-site.
Other companies have decided to go the other route, by making remote work a long term occurrence.
Google has extended its work from home policies to June 2021. Similarly, Uber, Twitter, Ziller have announced that employees are allowed to work remotely indefinitely.
Corporate executives are sympathizing with the comfortability of remote working and have pushed to make this a long term plan.
While all of this takes place, the rise and demand for team collaboration tools continue to rise steadily.
The web conferencing industry saw a 500% increase post-pandemic as reported by TrustRadius. Applications such as Zoom and Microsoft Teams all experienced a surge in users, shortly after the pandemic began as has been highlighted in the graph below.
We here at Telebu Communications have been using our own team collaboration tools to host web meetings, audio conferencing calls, webinars. Some of these applications include TelebuJoin (Video and webinar conferencing platform), grptalk (Audio conferencing app), and TelebuPing (Instant messaging enterprise tool).
While the end date of the pandemic is unclear, we can only swim in choppy waters. We have to adapt and prepare for what lies ahead. It is understandable that times like these don't warrant high spirits which can be linked to our motivation to work. All we can do is, sit tight and hope the vaccine will be our savior so that we can finally go back to that now unusual post-pandemic life.
Sanjna Lal
Sanjna is a content writer at Telebu Communications. She has always found her passion for writing, not just on a work level but also on a personal one. Having lived in over 4 countries during her lifetime, Sanjna loves exploring different cultures. If she isn't working, then she is indulging her taste buds in different cuisines (especially the spicy ones)!
Related posts
Subscribe to get the latest news & updates.