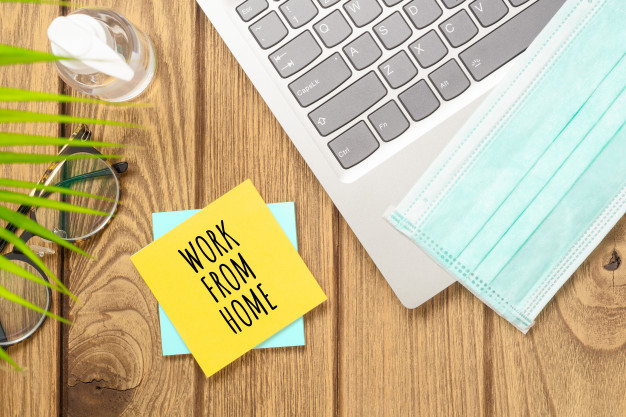 Remote Work: Ways To Enhance The Work From Home Experience
Niyathi Reddy, 3 months ago
4 min

read
0
Before the pandemic, many people across the globe had moments where they wished they worked from home. But the sudden overnight shift to WFH due to the crisis has been way more different from what many had imagined.
When offices across the globe went virtual, several topics such as diversity, mental health, and work culture started gaining more attention. Even though these subjects were important pre-COVID-19, they instantly gained more popularity as and when more and more professionals started struggling with the new normal.
This new normal, as we know it, has been confirmed by research. Virtual workplaces are here to stay. 
So, how can companies make WFH a positive experience for their employees?
Here's a look at the main problems at hand and how organizations can enhance the work from home experience for their employees.
Work-Life Balance – Does it exist anymore?
Since WFH started, several employees across the world have been complaining about work-life balance. It's understandable because people now work, exercise, eat, and sleep in the same environment.
The blurred lines between work and home are even causing serious mental health problems for many. Research conducted by Oracle identified that 78% of people feel that 2020 has been the most stressful year. 
Source: Oracle – AI@Work Study 2020
Another survey conducted by Monster identified that more than 50% of the respondents working from home felt burned out. Travel and other restrictions have added to this issue by limiting opportunities to relax and take some time off.
Casual chats – A Thing of The Past?
Before COVID-19 hit the world, casual chats with colleagues at work got people through the tough days and improved collaboration as a team. Several studies involving interviews with employees across the globe further prove this.
In a study conducted by EY, "39% of respondents said that when colleagues check in with them about how they are doing, both personally and professionally, they feel the greatest sense of belonging at work". 
But in 2020, WFH largely interrupted casual interactions and it has also caused the trend of FOMO (fear of missing out) to creep its way into the business environment.
Employees no longer have endless opportunities for casual conversations while working and it's uncertain how long this situation will be so.
How Can Companies Improve Virtual Workplace?
Now that we know the problems at hand, how can companies enhance the work from home experience effectively?
The answer is pretty simple.
All companies have to do is adapt to the new technologies in the market and use them to their advantage.
Confused about where to begin? Here are a few things to start with:
Introduce A Business Communication Tool
To communicate & collaborate during remote work, various companies have been using personal communication tools like WhatsApp and Telegram. However, many employees don't think this is an ideal way of working.
Using the same app to chat with friends and discuss product updates makes it very hard to keep home life separate from work life and vice versa.
Since a great number of people worldwide have been struggling to separate their work life and personal life, this very aspect of mixed communications could add to the problem.
The solution to this issue is the introduction of a business communication tool like TelebuPing. TelebuPing is a simple communication tool that's designed just for work communication amongst professional networks and communities.
Host Regular Team Get-togethers Not Just Meetings  
Companies shouldn't neglect team building activities just because everyone is working from home. Employees miss casual conversations with their colleagues so introducing a team get-together activity will boost your team's morale and enhance the work from home experience.  
Promote Mental Well-being
The pandemic and the uncertainty around it has already affected the mental well-being of many. So this is the perfect opportunity for companies to discuss mental health and break the stigma around it.
While the management can't control the pandemic stress, they can definitely do their part to help employees manage their work-related stress better.
This is the time for companies to be more empathetic and create an environment where people can freely express their issues.
Mental well-being in the workplace can also be promoted by appointing a special corporate counselor whom employees can talk to if they need to.
2020 has not been an easy year for many professionals. But if organizations can make better decisions about how to make WFH easier on everyone, the new normal might just be worth cherishing.
Niyathi Reddy
I am a content writer and I love writing on healthcare, telecommunication products, movies and more! When I am off the clock, you will probably find me exercising or binge-watching Netflix.
Related posts
Subscribe to get the latest news & updates.