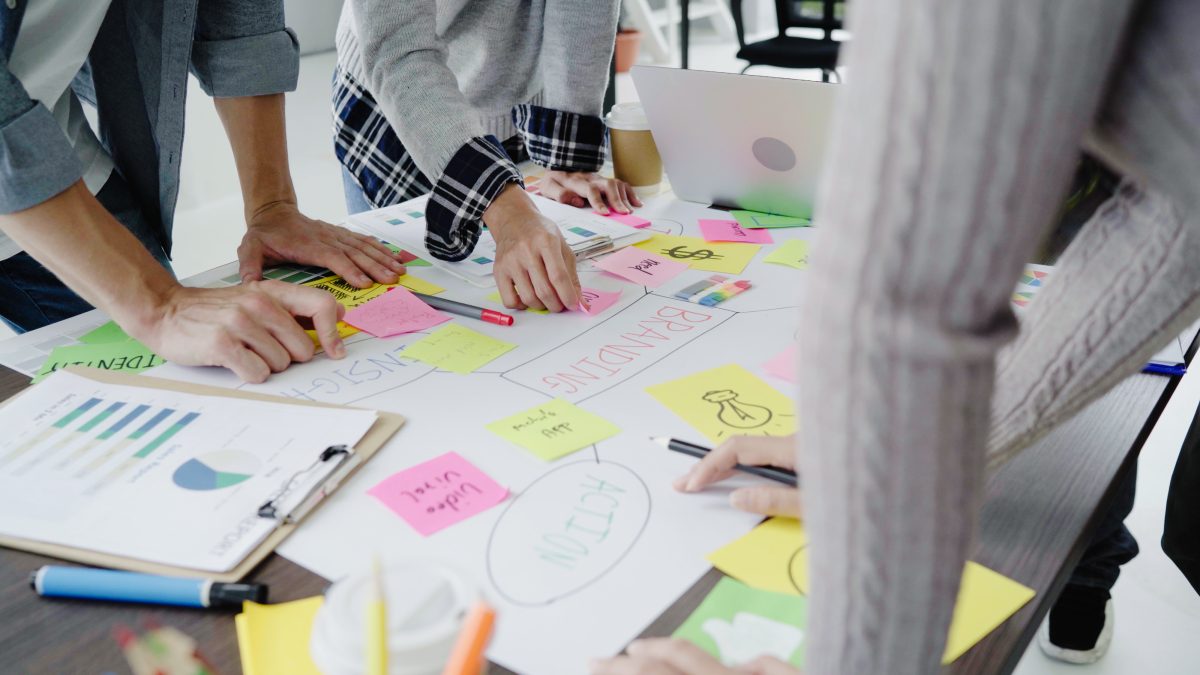 Goal-Oriented Communication: Tools Teams Need To Work The Right Way
Shalini Singh, 9 months ago
6 min

read
92
The way a team communicates reveals everything about the organization or entities they belong to. The process of passing or sharing information, ideas, facts, and thoughts serves as a foundation for all other essential functions within and outside of the organization. With companies throughout the country implementing work from home policies to keep business running while ensuring safety and social distancing, clear communication has become more important than ever. However, this unexpected shift has put communication in a tough spot. For those who haven't worked remotely prior to this new situation and are used to in-person interactions to get their tasks done, having a sense of clarity and consistency in communication is the biggest challenge right now. And that's where the concept of goal-oriented communication comes into the picture.
Now, don't sweat too much over the term "goal-oriented communication". It's just another means of improving team cohesion and running an effective business from anywhere. In my experience, it is the kind of communication culture that reflects the diversity in goals of the organization and convinces everyone in the team to work together towards achieving the given goals.
In this particular article I am going to put forward the theory of goal-oriented communication in the simplest form. Additionally, I am going to suggest a list of tools that will help you practice communication oriented toward goals in your team/department/organization.
Read on. Get equipped. Get work done, together.
The Theory of Goal-Oriented Communication
In any business, having clear goals is one of the motivational factors to employees – even when not working under one roof. Having a clear image of the business, its goals, and each individual's role is more likely to give employees the serenity they need to be as efficient and productive as they can be.
And that's exactly what goal-oriented communication culture does.
Fair, transparent, ethical, and decisive – a goal-oriented team communication works on these four key principles. In the process, the manager or the person in charge is responsible for ensuring that everyone in the team fully understands their goals.Furthermore, they need to come up with a well-structured plan of action that will improve workflow as well as the communication between all involved.
Sounds like a lot? Well, here are some trending team communication and collaboration tools that will make things easier for you and your team.
10 Tools for Goal-Oriented Communication
Mentioned below is the list of the best goal-oriented communication tools and software for 2020.
Real-time Chat Tools
Available for: iOS, Android, and Web
Overview: TelebuPing is an enterprise communications and collaboration platform for unified voice or video conferencing with integrated chat and file sharing options.
Best features: Seamless communication via text, voice, and video, Connects 10,000+ people via video/audio conferencing and text messaging, End-to-end data encryption, HD audio/video, Easy file and screen sharing, Smart integrations, Advanced controls.
Available for: iOS, Android, Web, and Windows
Overview: Cloud-based solution designed for business communications to help teams manage chat, meet, file sharing, team discussions, and more.
Best features: Mail-style threaded conversations, voice/video conferencing, team chats & private discussions, In-line animated GIFs, tabs for frequently used documents, open API, @mentions, customizable alerts, and multi-factor authentication.
Available for: iOS, Android, and Web
Overview: Atlassian HipChat is an online, real-time, team communication platform. It facilitates communication by giving people ways to talk to one another that make sense in the modern world.
Best features: Chat rooms, file sharing, @mentions, screen sharing, video calling, emoticons & bots, animated GIFs, Instagram feeds, Twitter posts, 256-bit SSL encryption, private text chat, live/video conferencing, two-way audio & video, call sharing, collaborative workspace, file transfer, real-time monitoring, and real-time notifications.
Video/Audio Conferencing Tools
Available for: iOS, Android, and Web
Overview: grptalk is an instant audio conferencing software that lets teams and groups connect from anywhere without the need of internet or advanced hardware.
Best features: Easy audio conferencing, Advanced call controls, Sub-account management, Scalability of 1000+ people on one call, Dial-in conference, Dial-out conference, No internet conferencing, Web conferencing, Advanced call analytics, Advanced call recording, Private room discussions, Upload Excel web lists, Centralized billing.
Available for: iOS, Android, and Web
Overview: TelebuJoin is an instant video conferencing & interactive webinar platform that helps you meet, discuss & build relationships from anywhere, on the go.
Best features: Video conferencing, HD audio and video, Webinars, Live broadcasts, One click join, Screen share, File sharing, Advanced call controls, Mobile responsive, Team chat, Hand raise for Q and A session.
Available for: iOS, Android, and Web
Overview: Designed for businesses of all sizes, it is an online meeting tool that helps teams collaborate and communicate via calling, file sharing, messaging and more.
Best features: Skype to Skype calls, Calls to mobiles and landlines, Group calls, Skype Number, Forward calls, Caller ID, One-to-one video calls, Group video calls, Video messaging, Instant messaging, Send texts (SMS), Voice messages, Send files, Screen sharing, Group screen sharing, Send contacts.
Knowledge Centre Tools
Available for: iOS, Android, and Web
Overview: Bloomfire is a knowledge sharing software solution that centralizes company knowledge by bringing everything together in one secure and searchable platform. The platform aims to banish information silos by giving all employees across the entire organization a way to share and access information.
Best features: Analytics and reports, API and single sign-on, Authoring tools, Customizable, Effortless content organization, Email and in-app notifications, Gamification, Multimedia content sharing, Role-based management, content moderation, Salesforce and Google Apps integration, Supports video, modules, presentations and more, Unlimited groups and sub-communities.
Available for: iOS, Android, and Web
Overview: Taskworld is the easiest way for teams to manage tasks and keep track of work. With Taskworld, you can seamlessly manage projects, track tasks and collaborate with your team across multiple projects – all from one tool.
Best features: Workspace, Checklists, Tags and Labels, Attachments, Task by Email, Tasklists, Repeating Tasks, Followers, Image Previews, Activity Log, Tasks in Multiple Locations, Task Points, Multiple Assignees, Projects, Project Groups, Timelines, Calendars, Project Templates, Privacy Settings, Task Comments, Project Chat, Direct Messaging, @mentions, Text Editor, Emojis, Public/Private, Channels, Email Relies, Chat Heads, Interactive Dashboard, Burndown Charts, Burnup Charts, Advanced Filters, Tasklist Overview, Progress Bar, Custom Backgrounds, Admin Rights, Multiple Languages, Multiple Devices, People Page, File Management, Priority Phone & Email Support.
Available for: iOS, Android, Web, and Windows
Overview: Bitrix24 is a task and knowledge management tool for teams who want to stay in loop and collaborate efficiently. It lets you run your teams smoothly and efficiently, even if they are literally half a world apart.
Best features: Collaboration Tools, Calendar Management, Contact Management, Content Management, Discussion Boards, Document Management, Create Subtasks, Gantt/Timeline View, Mobile Access, Recurring Task Management, Reporting/Analytics, Task Board View, Time Tracking, To-Do List View, Audio / Video Conferencing, Call Center, Call Recording, Call Routing, Chat / Messaging, File Sharing, IVR / Voice Recognition.
So, there you go.
This was my list of best goal-oriented communication tools and everything else you need to know to get started with goal-oriented communication. Start with a 5-minute evaluation of your communication needs and find out which of the above options would work best for your specific needs.
Happy Communication!
Shalini Singh
Shalini Singh is a creative content writer at Telebu Communications. She loves to speak her mind with clarity and logic. She mainly writes on topics that are at the intersection of modern business culture and collaboration. And when she is not doing that, she is somewhere exploring a new place or just sitting on the couch scrolling through random posts on Instagram.
Related posts
Subscribe to get the latest news & updates.